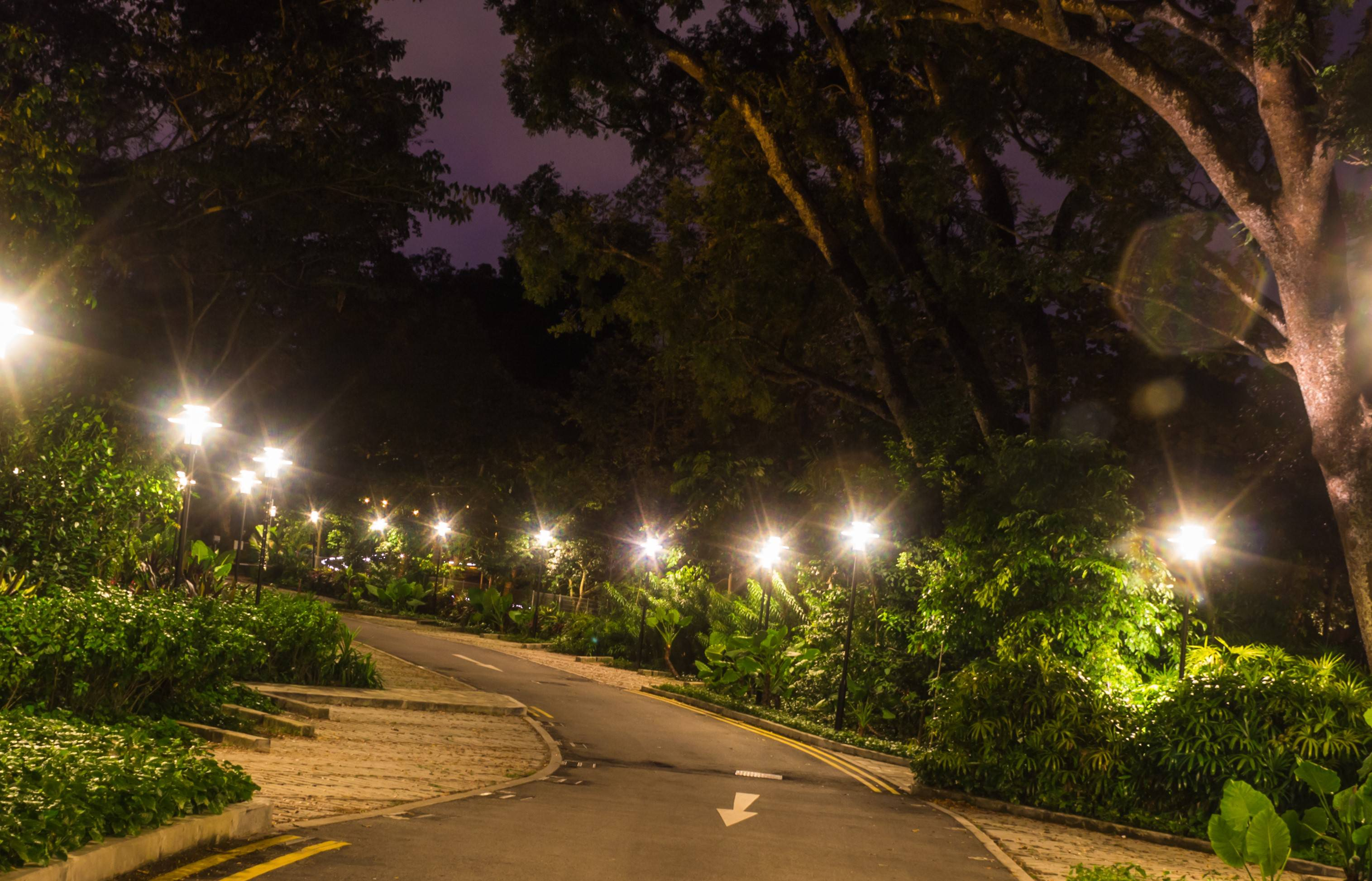 Outdoor lighting ideas patio is a must to add safety to your dark outdoor spaces, preventing some unwanted accidents. Whether you use the outdoor space as an outdoor dining space, a pathway with stairs, or just an area to relax after a hard long day with your beloved ones, lighting ideas will expand the usability of a covered patio, illuminating seamlessly day to night. Lighting an outdoor patio is something not to overlook as it can truly help you achieve both practicality and style at dusk.
A well-designed landscape must be combined with outdoor lighting without messing up other exteriors, such as walkways, paths, or garden pergolas. If you choose the right design with proper tips, it can draw attention and bring an inviting, safe, and secure feeling even in a shadowy corner. Have you known where to begin yet?
We've rounded up the best patio lighting ideas for outdoor spaces to help you narrow down your options from on-trend countless ideas for landscape lighting, from string lights on trellis, fences, or pergolas to uplighting with outdoor lanterns. Let's protect your property and make it less targeted for crime!
Don't hesitate to call Green Arbor Landscaping RIGHT TODAY – (206) 279-1450!
Outdoor String Lights on Wall and Fence
Tips: Direct the light right where you need it to create a centerpiece.
The very first common forms of outdoor lighting are outdoor string lights as they are really impressive and easy to install anywhere in a landscape garden. Try to hang outdoor string lights on a fence or wall to enhance the focal point and light up at the same time.
These hanging lights can be solar, plug-in, or battery-powered so you can let them zig-zagged over the fence as a semi-permanent solution or just dress up the patio for an occasion.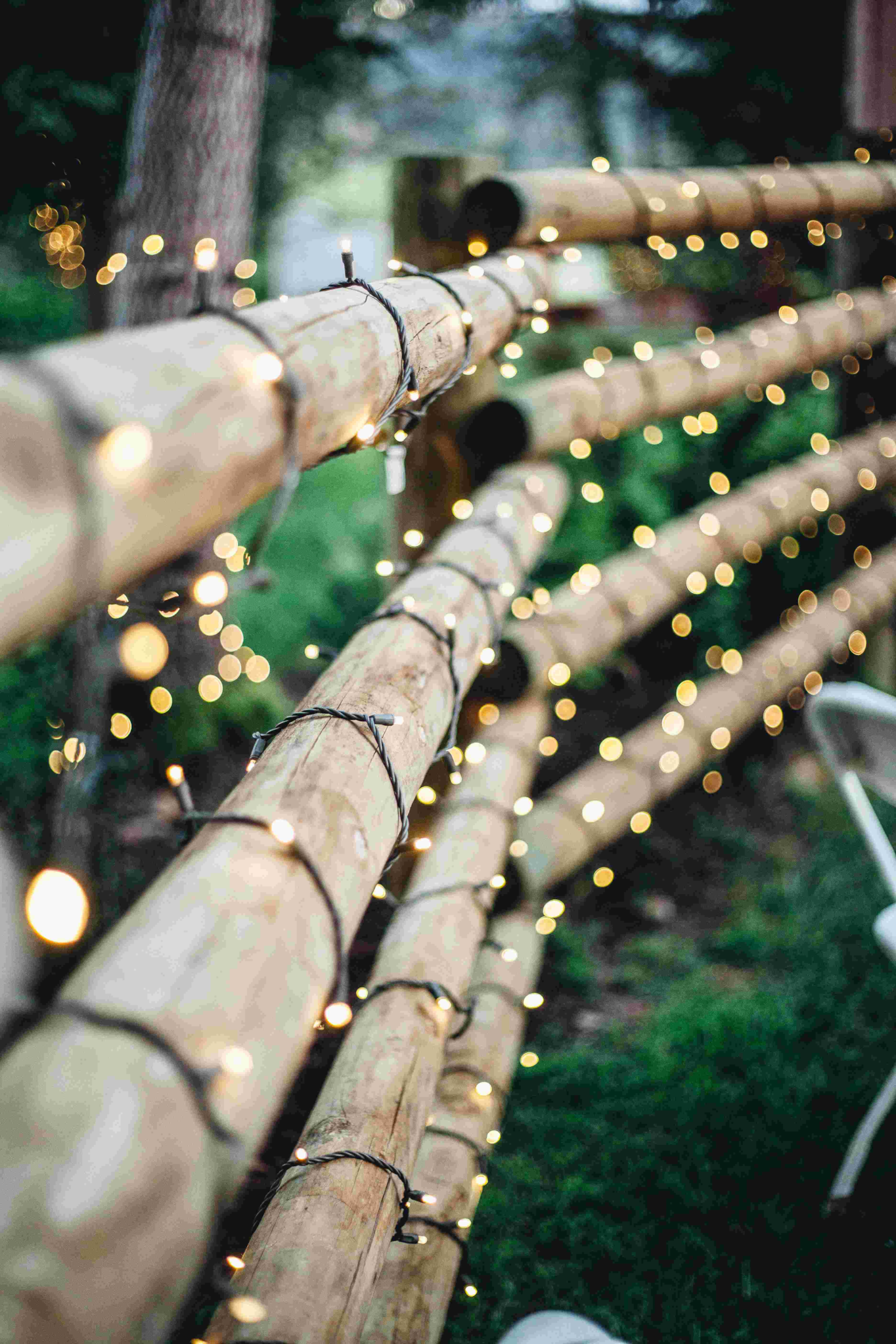 Also, you can wrap string lights around an over-the-table rod to create an ambient feeling to the dining table like Alfresco style, lay down in an entertaining space to transform the backyard into a French café, or even on trellises and around tree trunks for an undoubted focal point. String lights are wonderful ideas for an outdoor patio that constantly elevates outdoor furniture with big magic.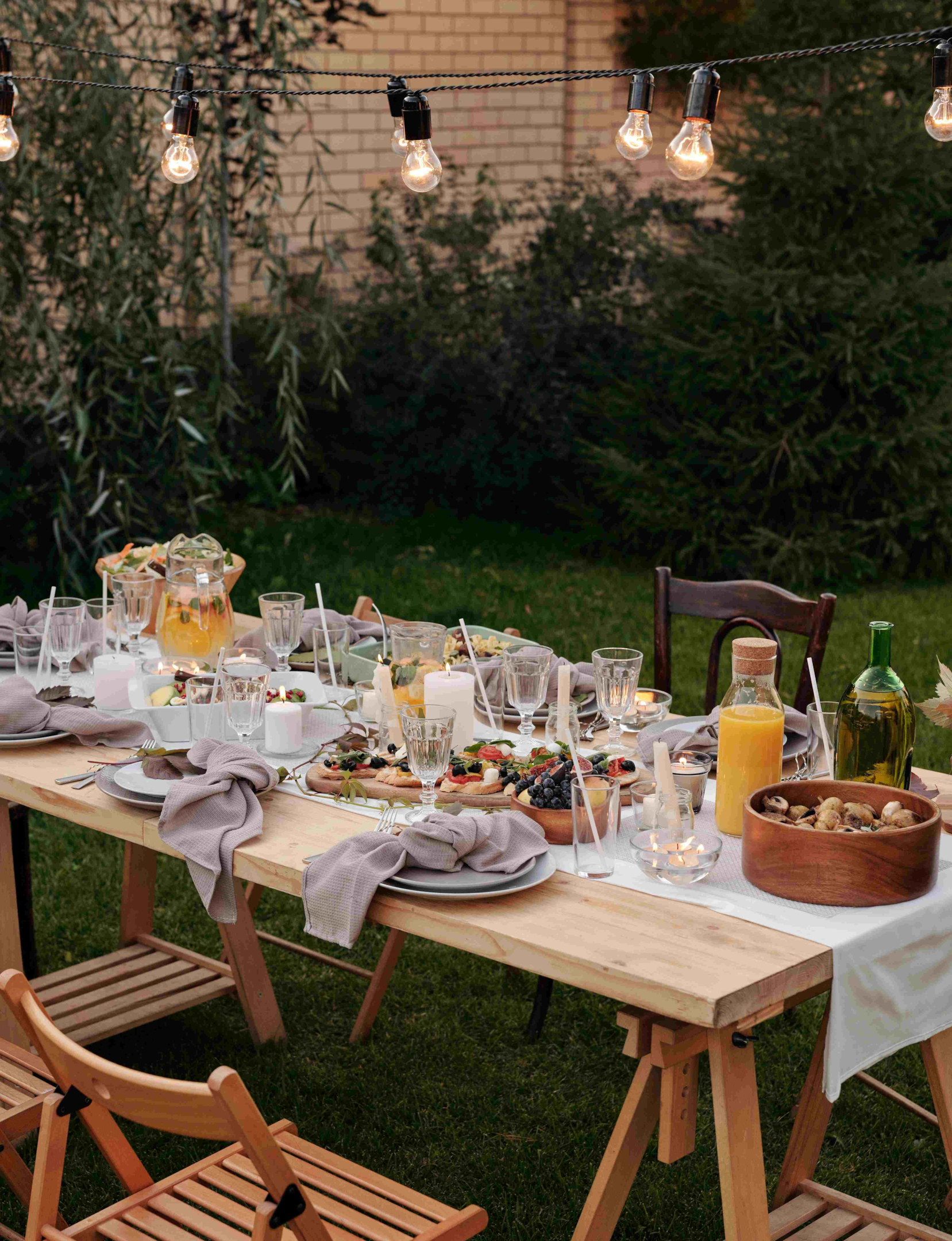 Outdoor Chandelier for Dining Table
Chandeliers are not far strange in many homeowners' patio lighting ideas. This mason chandelier is a wow factor that creates both beautiful and functional garden decorations.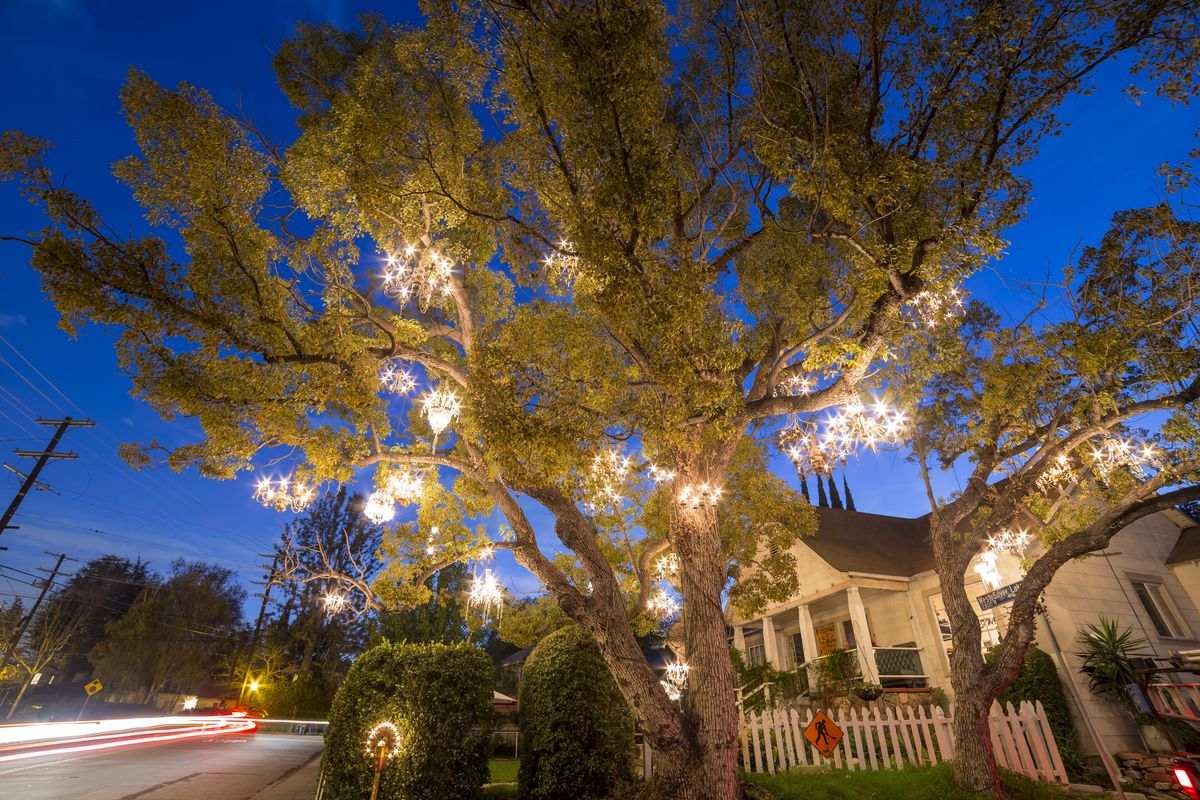 If you use some pergolas or covered decks on an outdoor dining table, hanging lights with a ladder chandelier as your own backyard lighting ideas will light up your outdoor room perfectly. With various design options, from rustic to modern, chandeliers can meet your demand in patio lighting ideas and make your home exterior more elegant with touches.
You can also style a gazebo or a large porch with some small chandeliers to create the perfect look to complement a small seating area in your front door without overpowering. Sitting under these outdoor patio lighting ideas and enjoying your cozy atmosphere will bring you an unexpected feeling more than ever.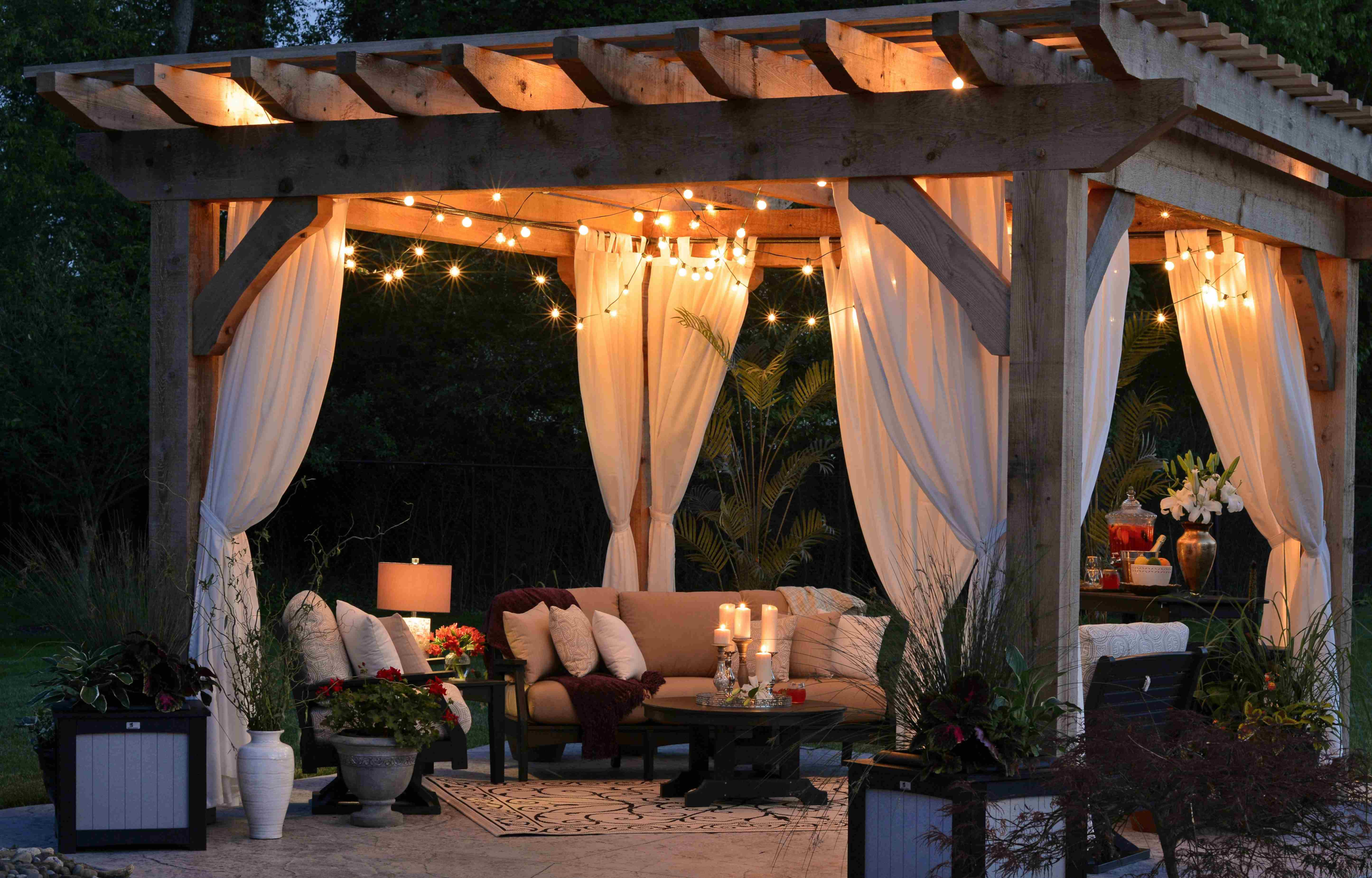 Tips: Remember to make sure your ceiling height is at least 7 feet to have enough space for hanging lights and other fixtures.
Find more landscape lighting manufacturers near me here!
Outdoor Lighting Ideas with Lantern – Renton Landscaping
Paper lanterns and fabric lanterns are what you must need in landscape lighting!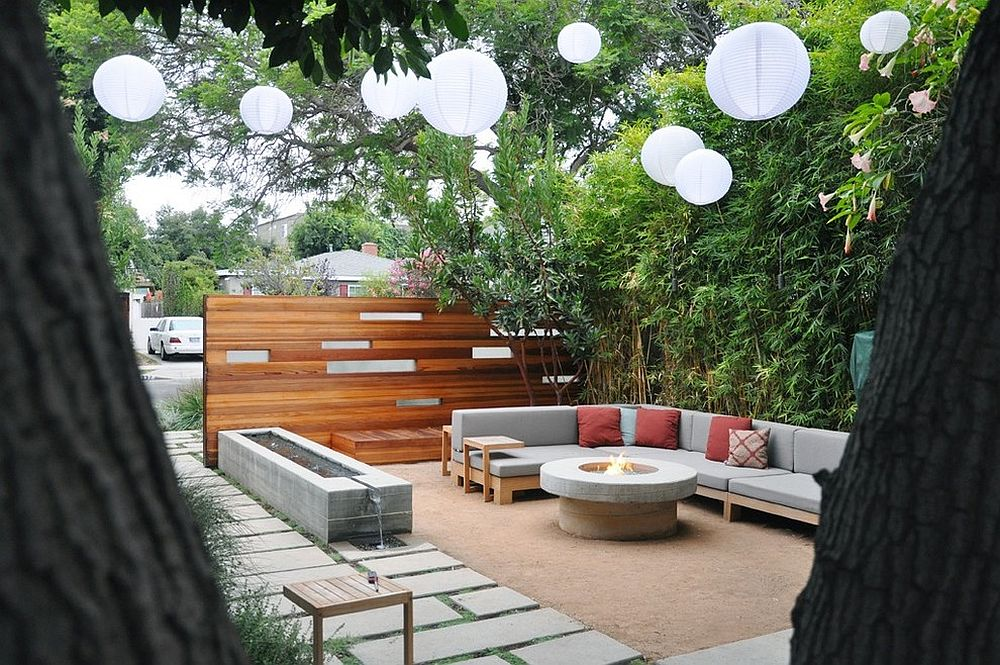 Inspired by Miami beaches with paper lanterns, these sets of accent lighting ideas give off such a welcoming glow as a timeless statement piece. There are now various lantern versions, including traditional ones with a battery-powered candle flame, LED lights, and solar light versions. This will add ambient light to the outdoor space and save time when hanging directly from branches of trees, pergolas, hooks, and so on.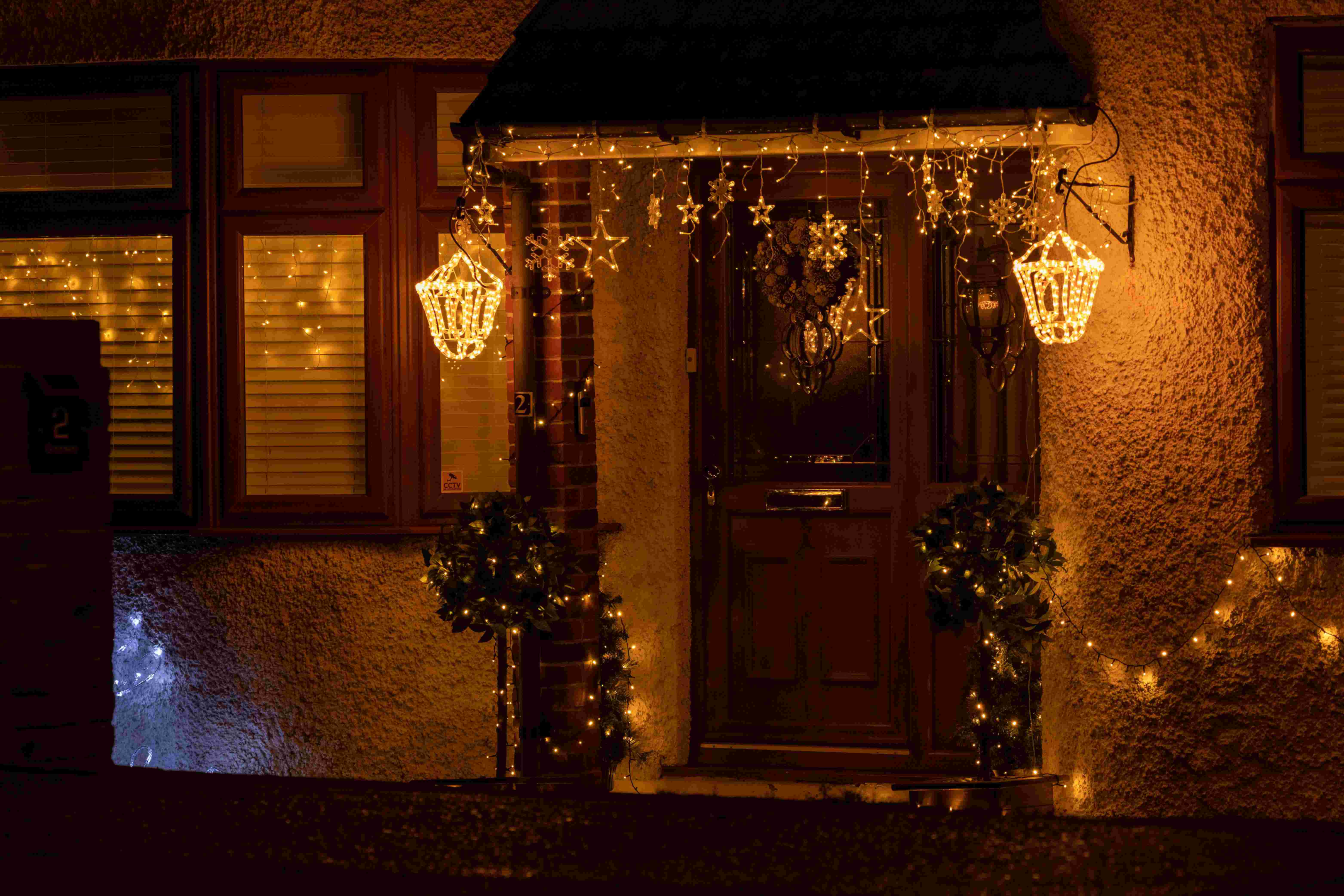 You can combine many different sizes of outdoor lanterns to create post light centerpiece for an evening BBQ area. Make lanterns cluster on the top of the table and place larger ones alongside the pathway lighting, leading to the front door. This is perfect for an Alfresco family meal!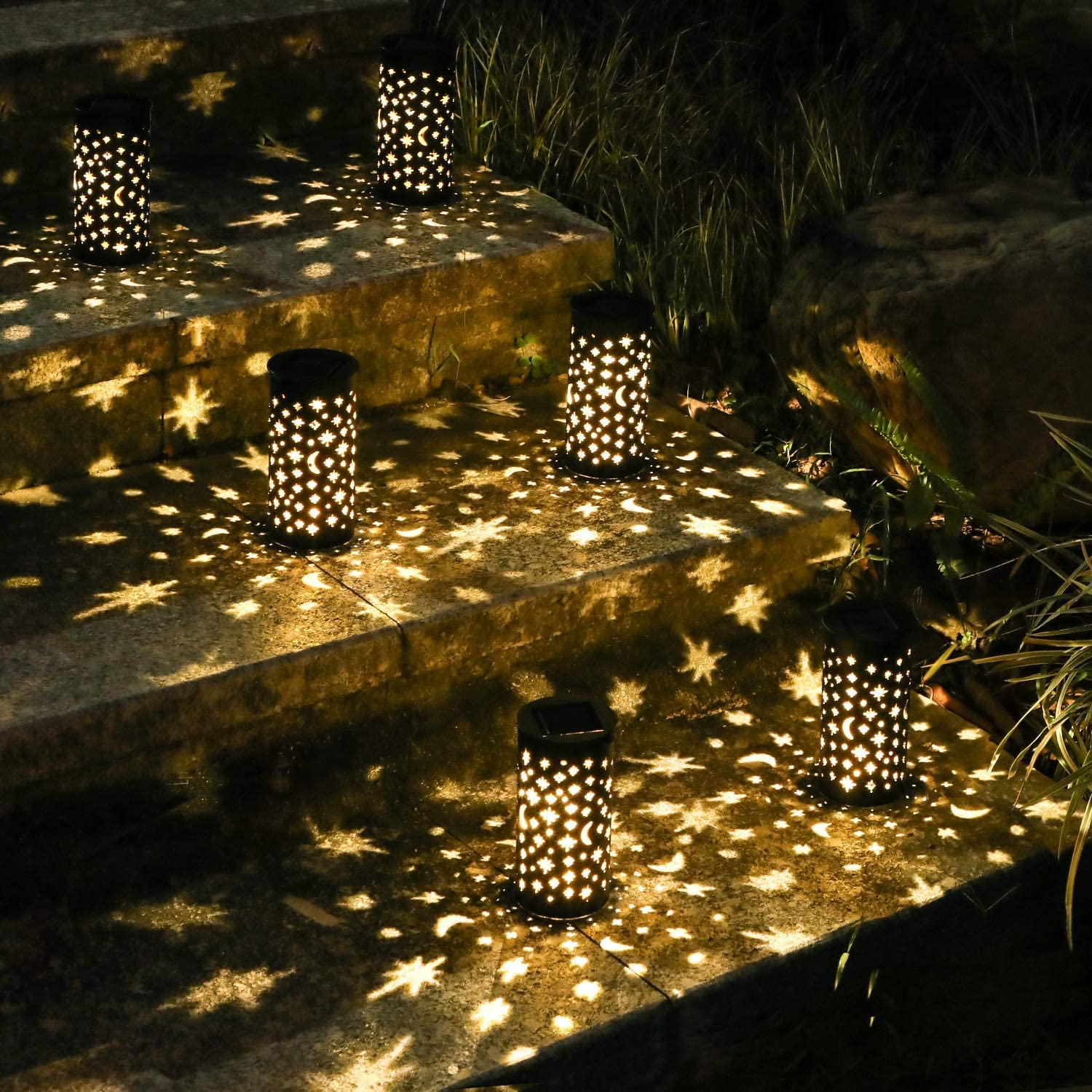 Although the cover of lanterns is made from nylon, they cannot stand well under extreme weather changes. That's why it'll be better to place them less frequently in outdoor spaces and best used in shaded areas.
Add Outdoor Wall Lights for Patio Lighting Ideas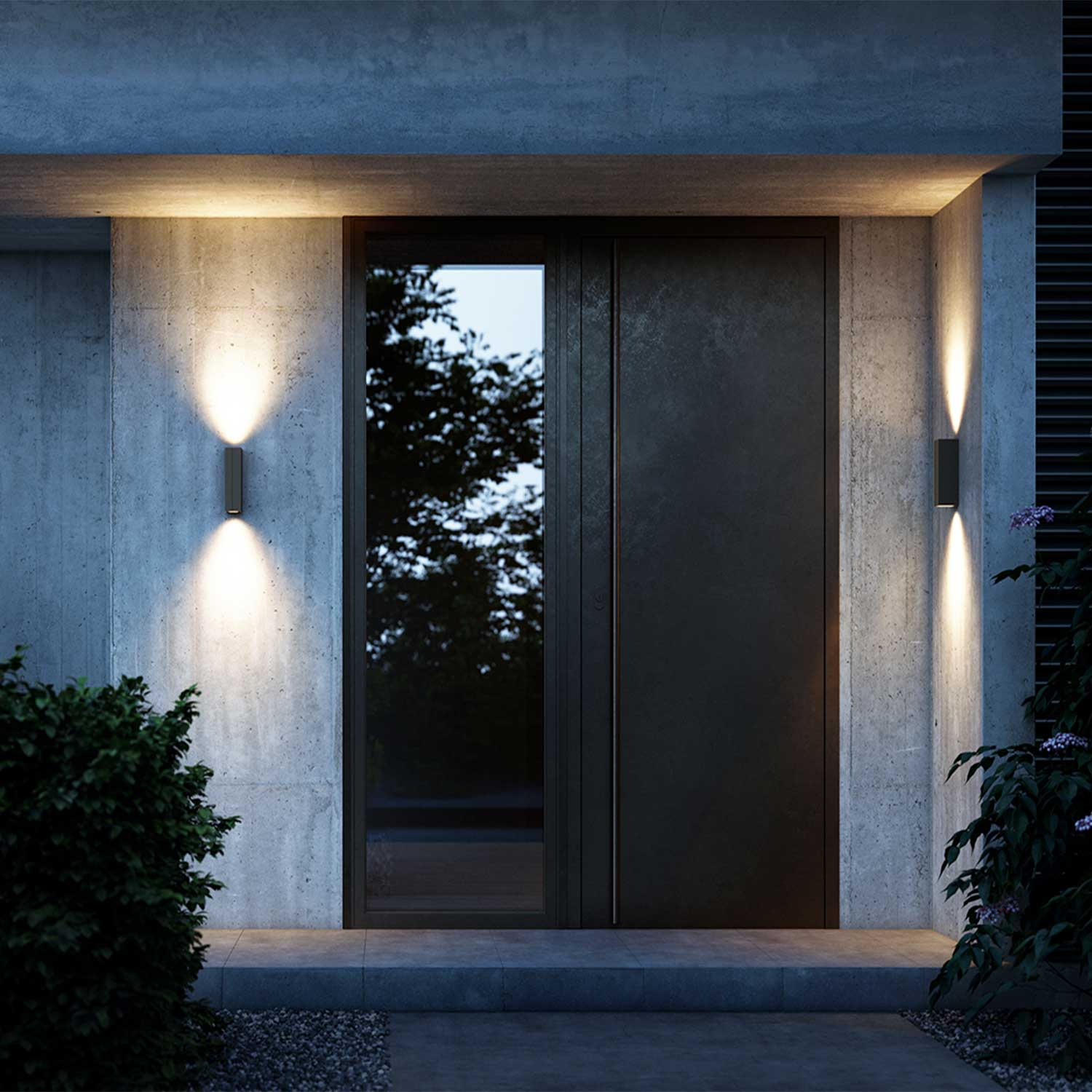 All front yard patios need accent lighting, especially under a pergola when the sun sets as your outdoor space will quickly become dark. Cladding lighting ideas into your outdoor wall is a wise way to both welcome guests coming to your house and enable you to spend more time on the patio when night falls.
Wall sconces can bring industrial chic while flowers from pergolas create more softness to the landscape. Perfect!
>>> More landscaping services here
Hang String Lights around a Pergola
Pergola with string lights can create a twinkling canopy as a shelter for friends and family to gather under. We love these patio lighting ideas as they look magical after dark and become an inviting place for everyone.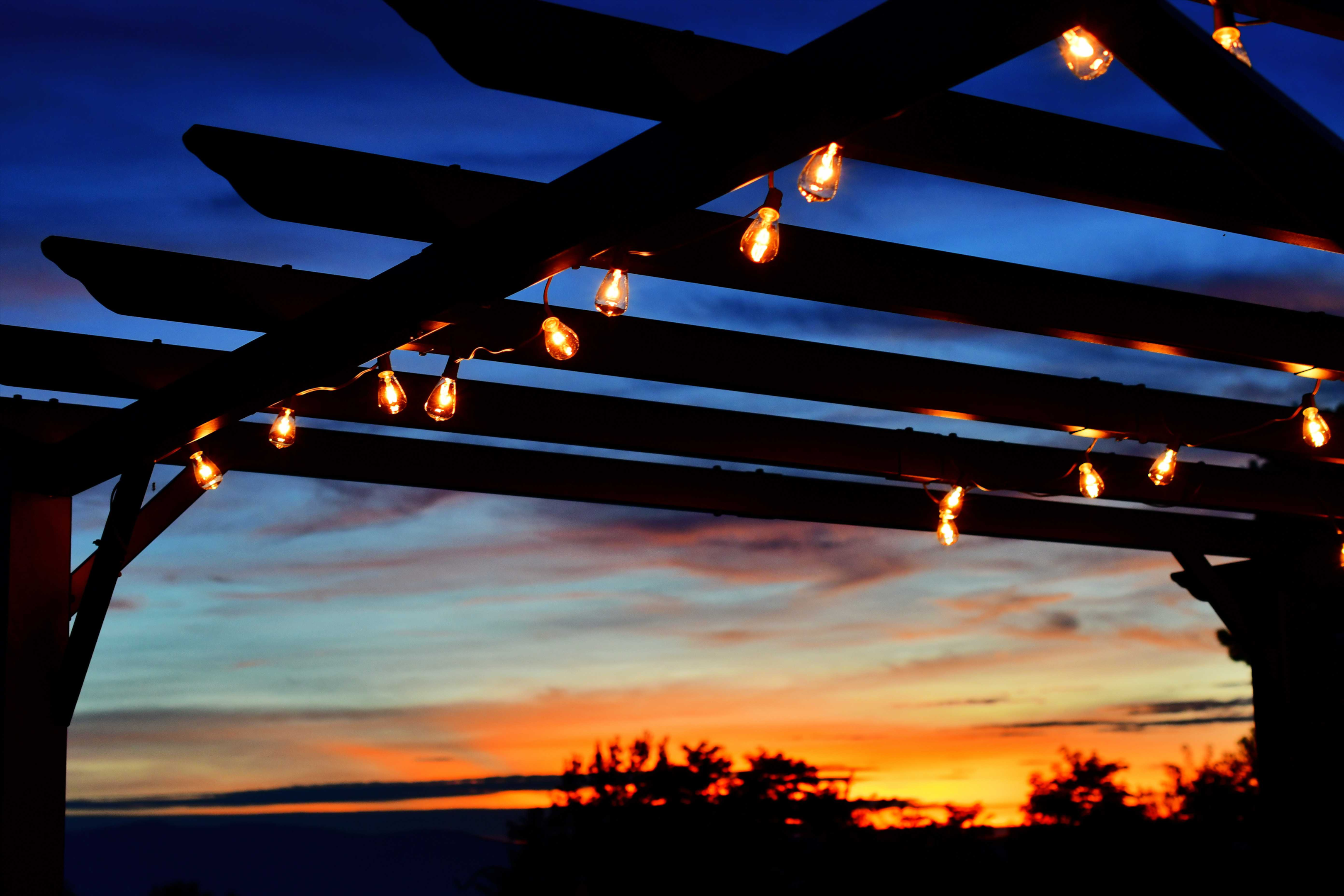 Inground Path Lights for Safety – Landscaping Renton
Path lights or step lights are an ideal way to ensure we can move around when night falls easily and safely. Whether your pathway is just an addition to the outdoor space leading to other entertaining areas or is an important feature, adding some path lights with posts can create a soft glow and an optical illusion of depth for backyard lighting ideas.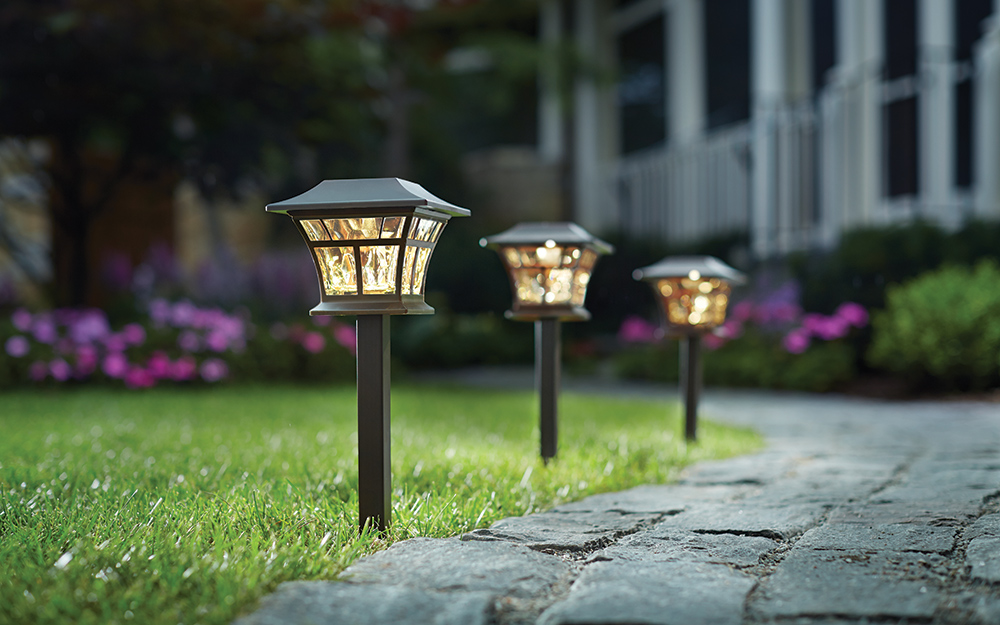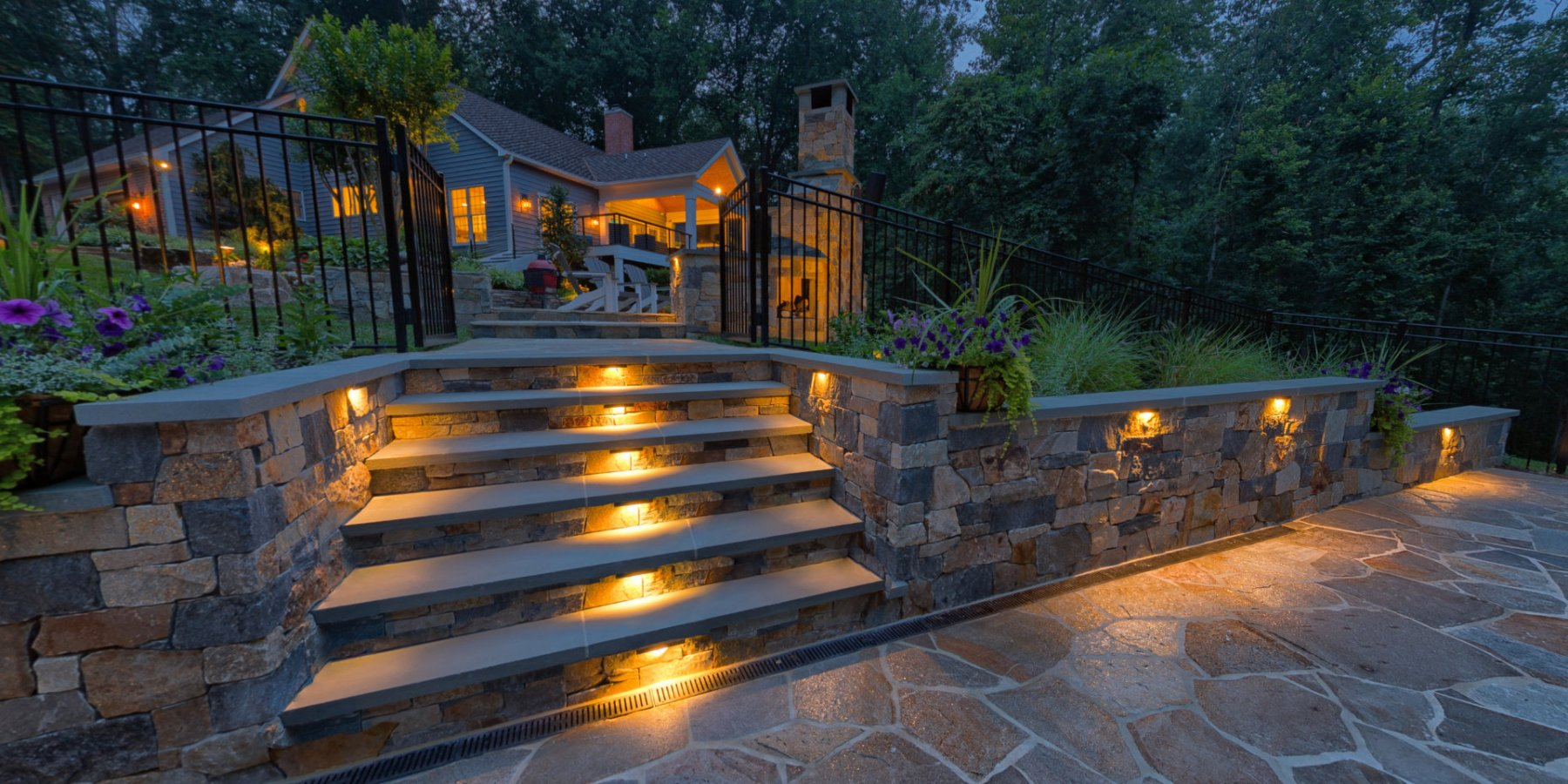 Remember to install these light fixtures low to the ground, even inground if can, so that they can light the dark corner without being overwhelmed. They will be mounted on patios, stairs, driveways, or pathways, guiding homeowners to a serene getaway, or the other side of the swimming pool which locates an outdoor BBQ area.
>>> Maybe you're interested: Above Swimming Pool Installation
For these landscape lighting ideas, you should use solar power instead of LED bulbs or low voltage path lights since they require more work to set up and transform the light fixtures to be installed. With solar lights, you just need to expose them to the sun directly during day time, and then they will automatically turn on at night and light up the space constant 8 hours.
Of course, solar panels will charge you higher! It's a trade-off!
Consider Fire Pits for Natural Glow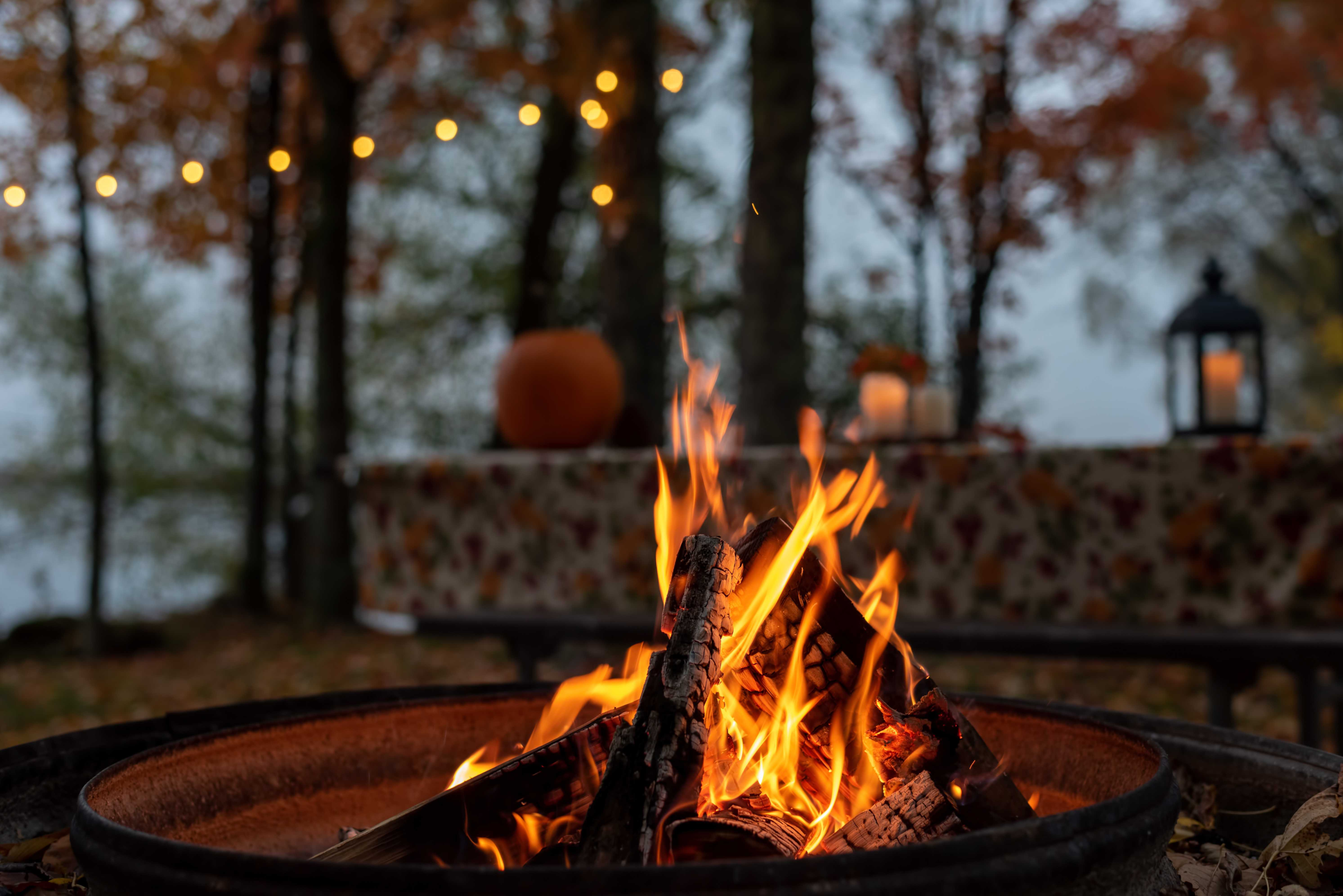 Natural glow? Why not? Let's consider adding a fire pit as your landscape lighting scheme. Being made from a lot of different materials, including raw steel veneer, concrete, brick, stainless steel, and so on, fire pits will light up your outdoor patio with a lively focal point any time of the year.
If you want something simpler, a wood-burn fire pit is also perfect. Placing a few patio chairs around this fire pit and you can already create a cozy seating area right here to burn some marshmallows, chocolate bars, and cookies to enjoy with your beloved ones.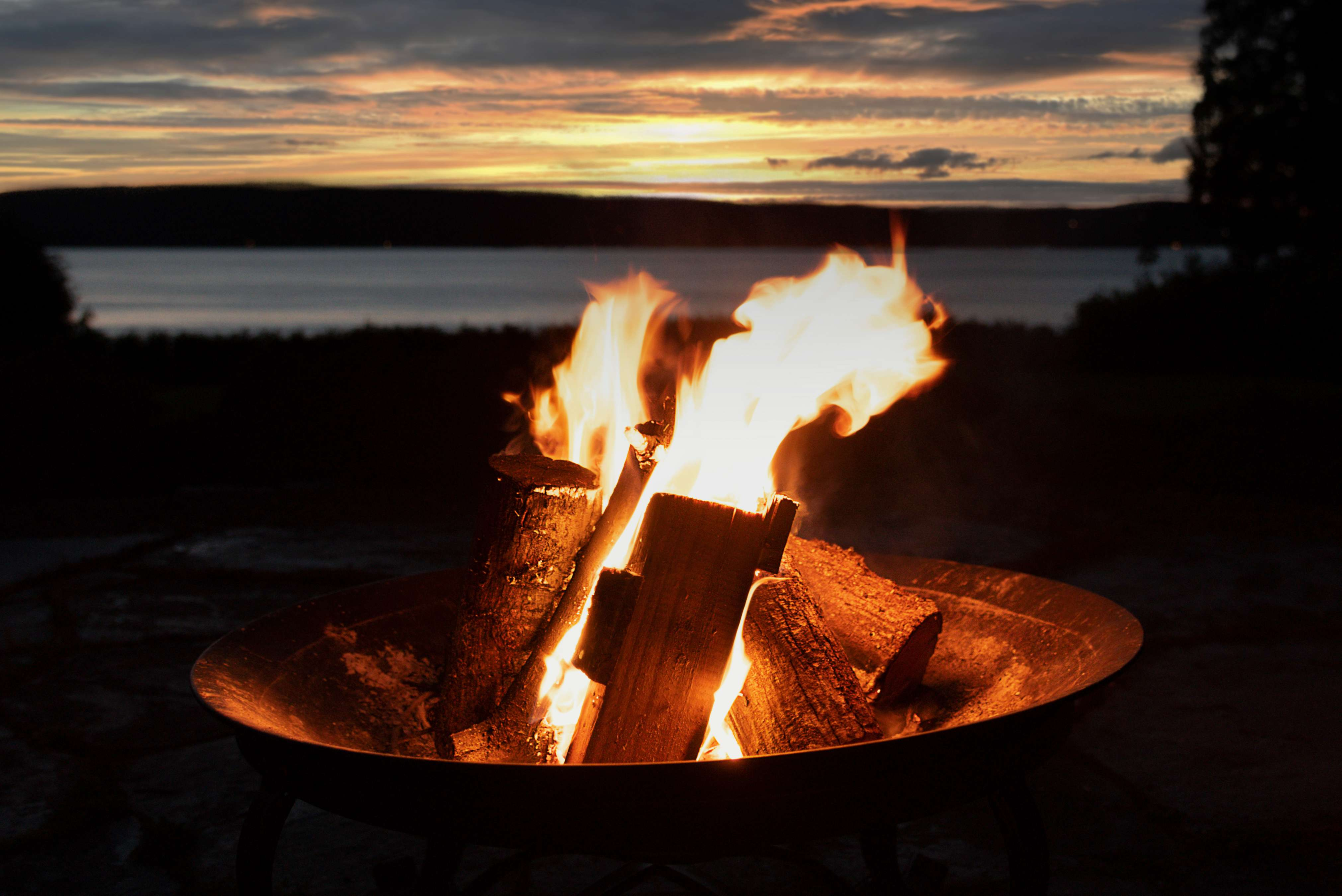 Or you can consider this stunning stone fire pit without being afraid about running out of wood. With a fire pit on the patio, any season is also a good season!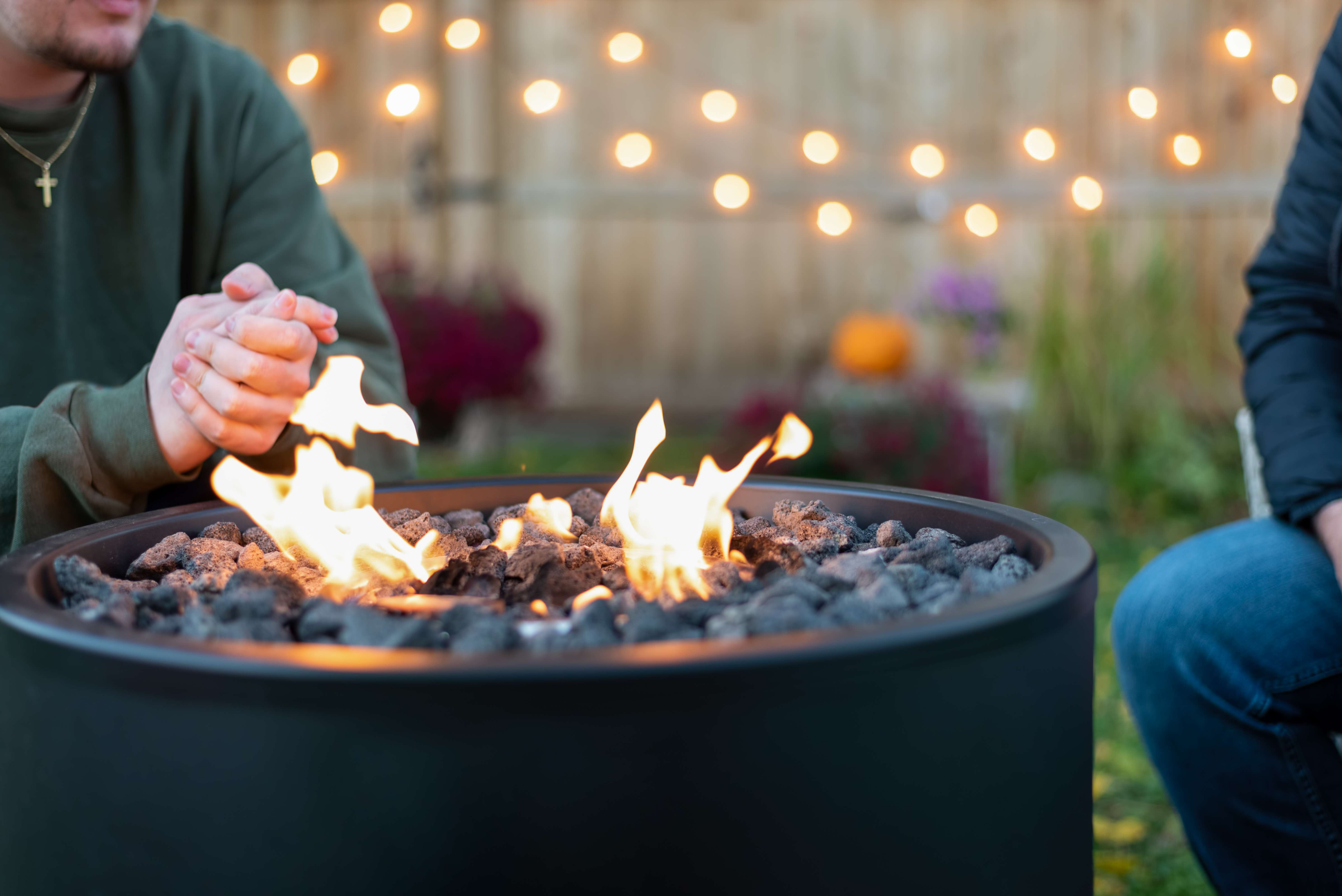 Create Centerpiece with Pendant Lights for Outdoor Lighting Ideas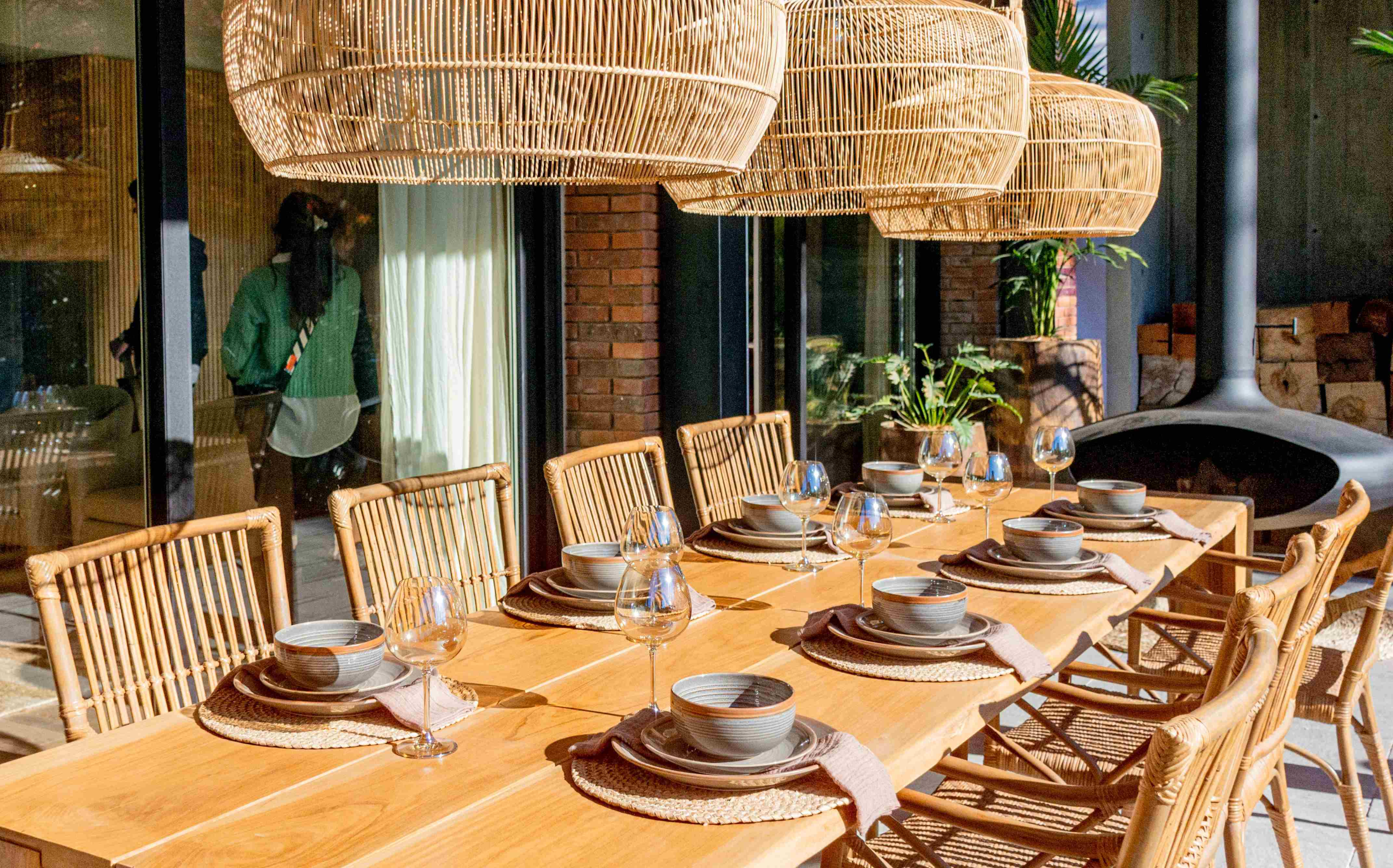 Why do you think indoor lighting should just be indoors? Create a difference for outdoor lighting ideas with pendant lights that are made from weather-resistant rope perfectly fitting boho vibes. Especially when you landscape pendant lights above outdoor dining furniture, they will become an impressive outdoor solution for all gardens.
>>> Read more: Garden Boulders for Landscape
Hang pendant light fixtures on a covered patio, a pergola, or a wraparound porch seating. These designs will cast shadows across your patio and suit every mood board. What is important when choosing a pendant light? It is its size – remember to opt large size not to make you feel like wasting outdoor space and put them on a dimmer to easily control.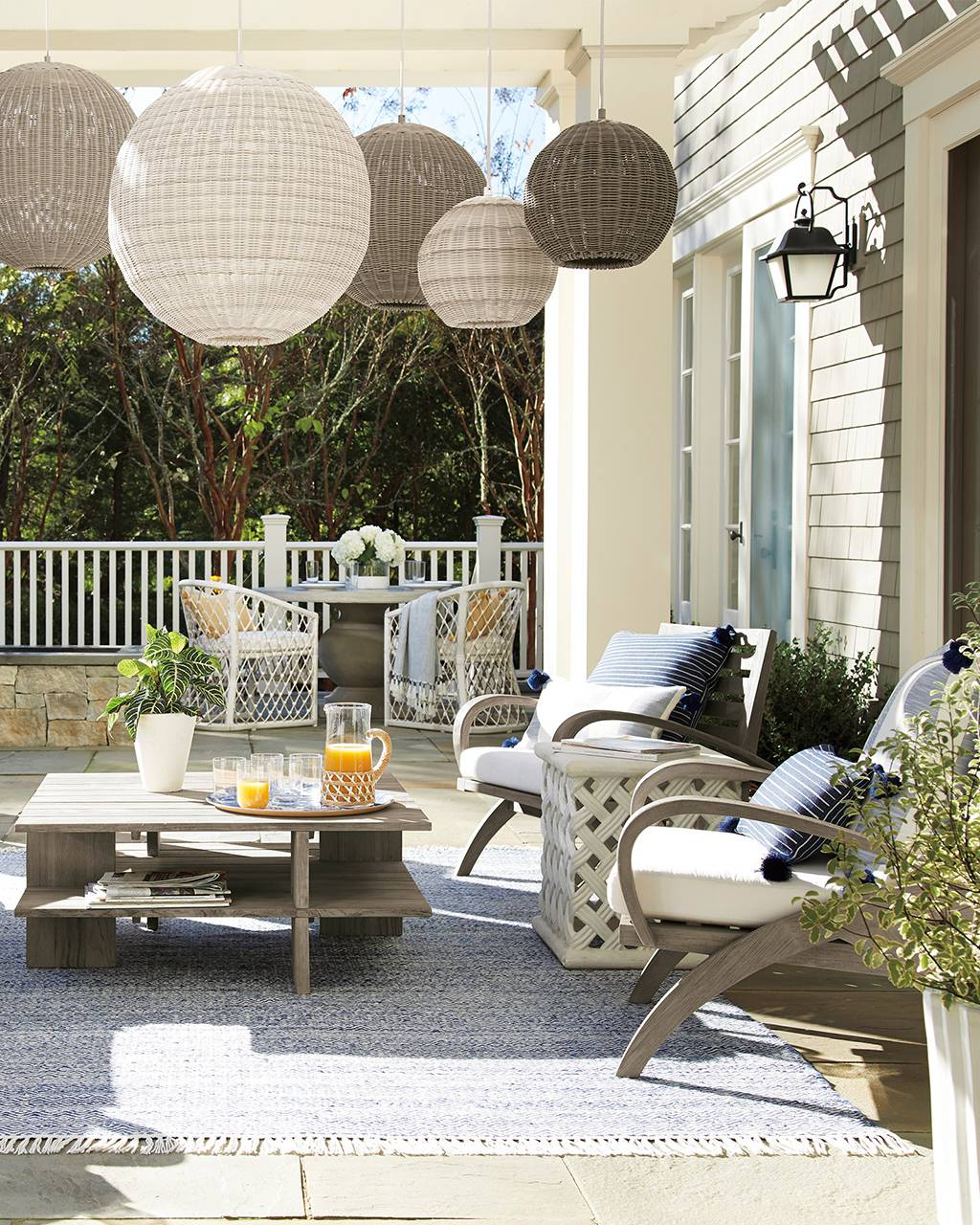 In addition, you should also try floor lamps as exterior lighting instead of confining them just indoors. Place a standing floor lamp with a weighted base to best secure them in exterior breezes. They are a perfect complement for patio furniture used for dining or relaxing.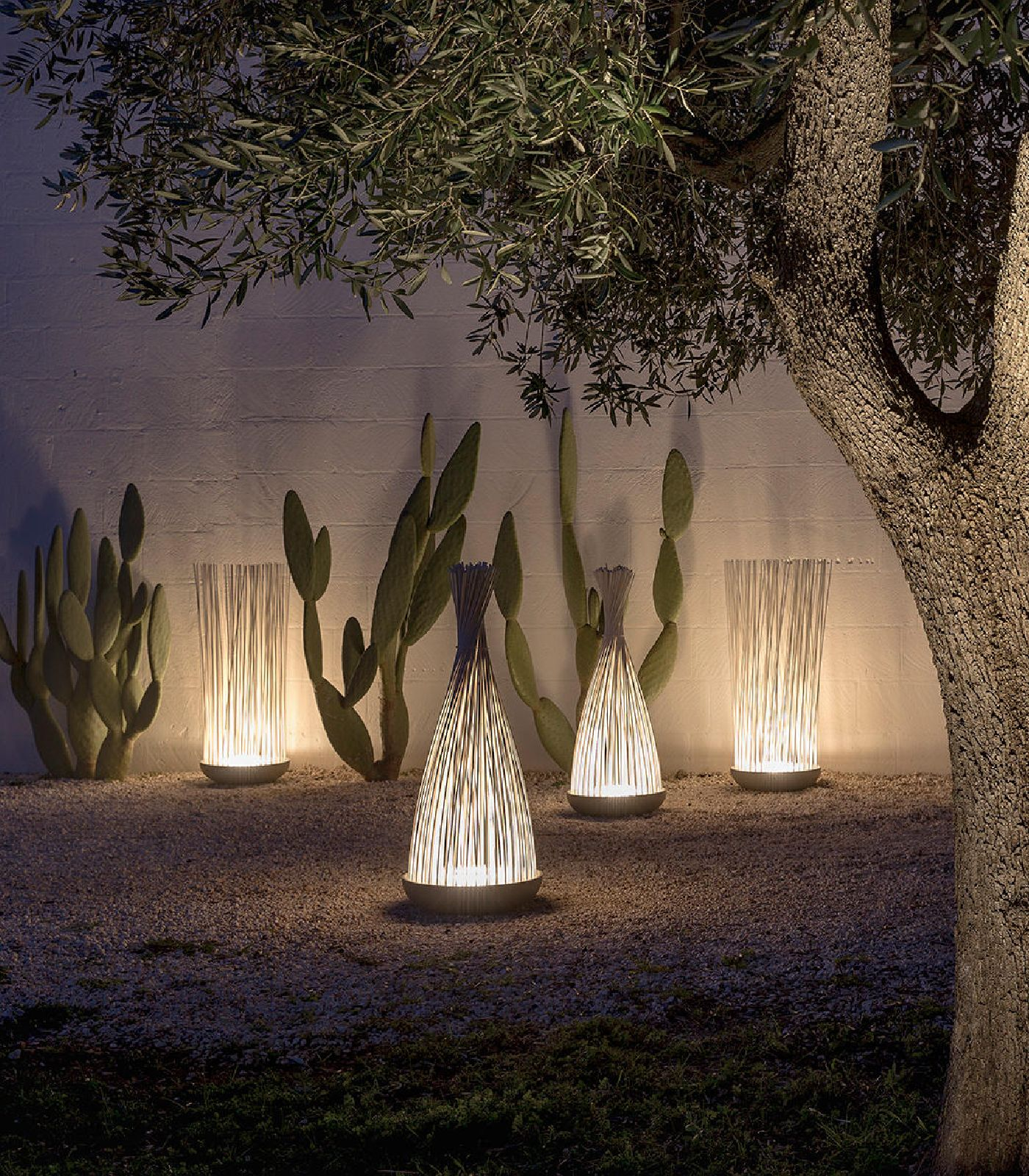 Frame Outdoor Fireplace with Wall Lights
Set light fixtures symmetrically on either side of an outdoor fireplace to provide sufficient lighting beside the flickering flames from the fireplace. Thanks to its fabulous design, a cozy Alfresco entertaining space, which is adorned with recessed light fixtures, has caught the attention eye around the space and also doubles up as a climbing wall for homeowners.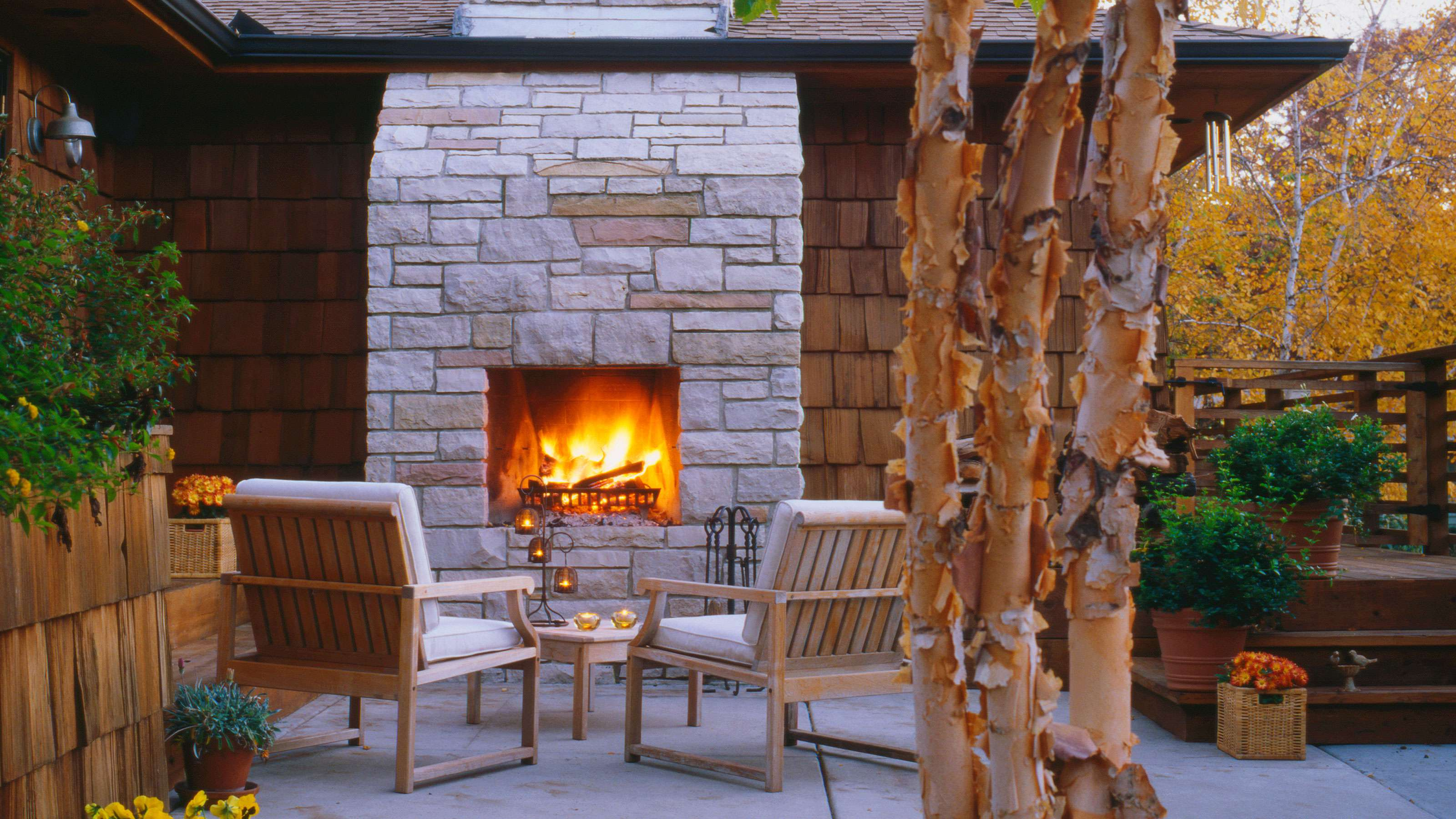 Illuminate Trees and Shrubs with Landscape Lighting
Last but not least outdoor lighting ideas we want to mention include how to uplight trees and shrubs while still creating a boundary for landscape gardens.
We all know the countless values trees and shrubs bring to our landscape, from creating breathtaking focal points to providing structure with designed planting. That's why you should take the most of these values by adding tree lighting ideas to the patio and making it live in the glow.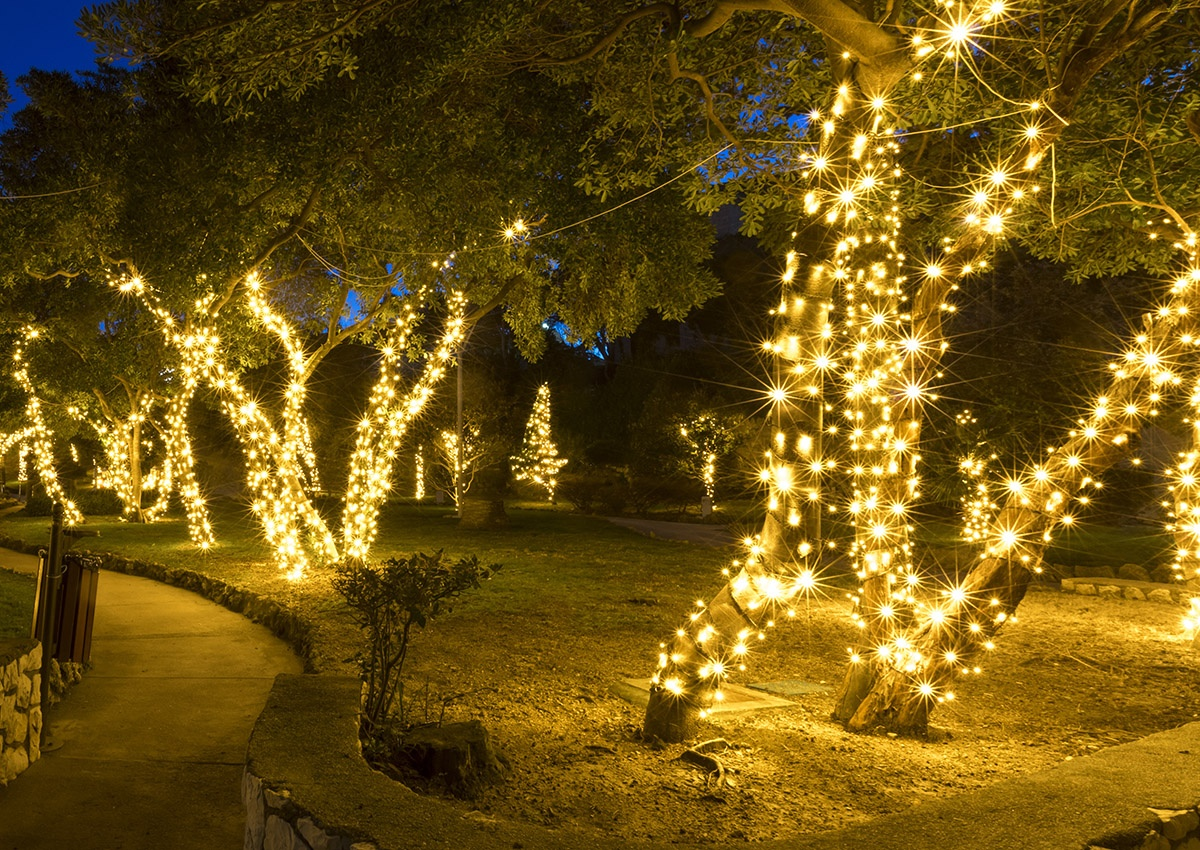 If you are surrounded by towering trees or pergolas, one of the most common ways to light up the area is to entwine the tree trunks or branches with string lights. On the contrary, if you plant some low-trunk trees and shrubs, consider some candles as your patio lighting ideas.
Candles provide you with accent lighting, especially flameless LED versions. They will create a welcoming glow to your patios without the risks associated with real flames when you have small kids or pets around.
Using flood lights to illuminate trees and shrubs is also an ideal way to add touches to your design. Here are some outdoor water features besides.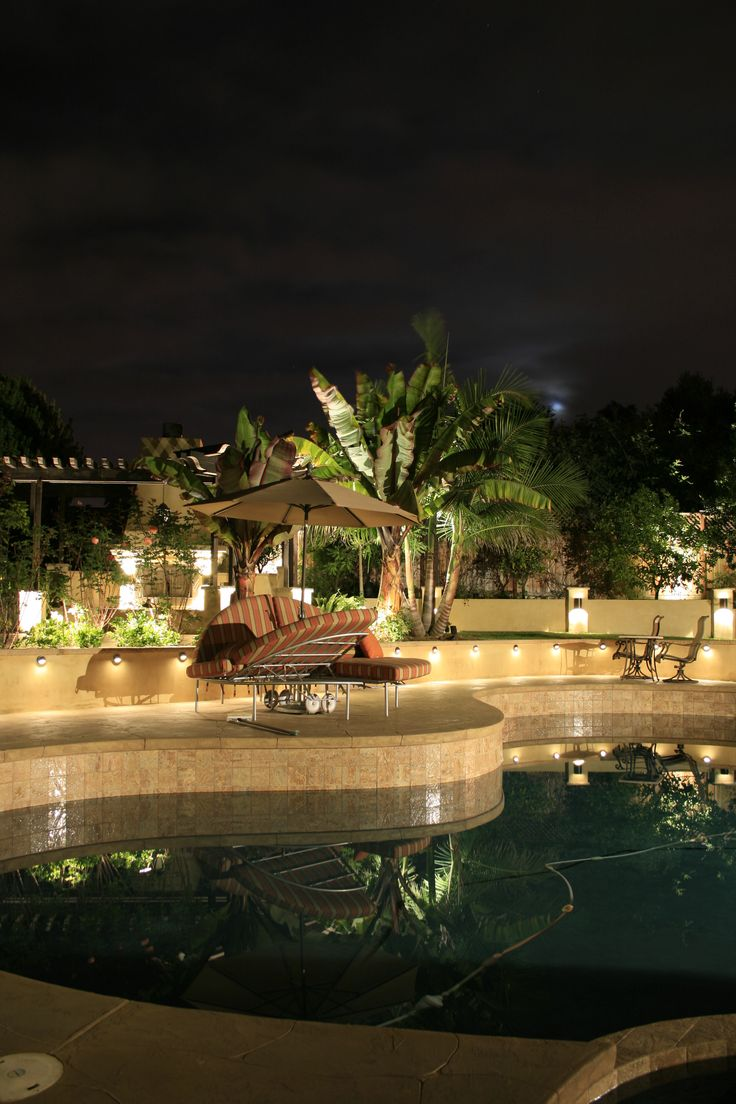 Warning: If you want to landscape candles to your patio lighting ideas, you must consider requirements of safety since they can cause some potential risks, especially when being placed around plants. Also, they can be extinguished by the wind outside. Therefore, opt for LED candles as perfect alternatives to provide a safe and easy way as real flame lit.
FAQs – Landscaping Renton
What are the Best Outdoor Lighting Ideas Patio?
It depends! A perfect outdoor lighting idea is what can suit and complement existing patio styles. For regular purposes of lighting, a pendant light or wall light fixture as background lighting, along with other additional lightings such as flame from fire pits, exterior lights, floor lamps, or accent lighting will be the most perfect ideas for yours.
However, for festivals or some special occasions, consider string lights. They are hardly beaten by any other lighting ideas because of their sparkle lighting and the ability to avoid trailing cable worries.
How to Layout Lighting Ideas for Outdoor Space?
To light an outdoor space, you should think of where and how you want your flame to be. For example, for a simple patio with high walls, you should complement outdoor string lights or pendant ones on your wall sconces to create soft and atmospheric feelings at the same time outdoors.
For some patios with seating areas, casting intimate pools of light for these spaces with floor and table lamps is also a way.
Or if you're grilling, remember to light up your working space to ensure safety. However, because this task is just something temporary, you can turn it off right when you finish cooking.
Can I Leave Outdoor Lighting in the Winter?
Absolutely yes. You can totally leave the light fixtures outdoors in the winter as long as they are assessed to be suited outdoors. However, leaving them during extreme changes, especially in the harsh winter, can shorten their lifespan. So, it's better to have something to cover and protect them from these changes.
For example, solar panels must be damaged by pouring rain, snow, and ice over time. When winter comes and you won't get any solar power, cover them with a layer of fabric.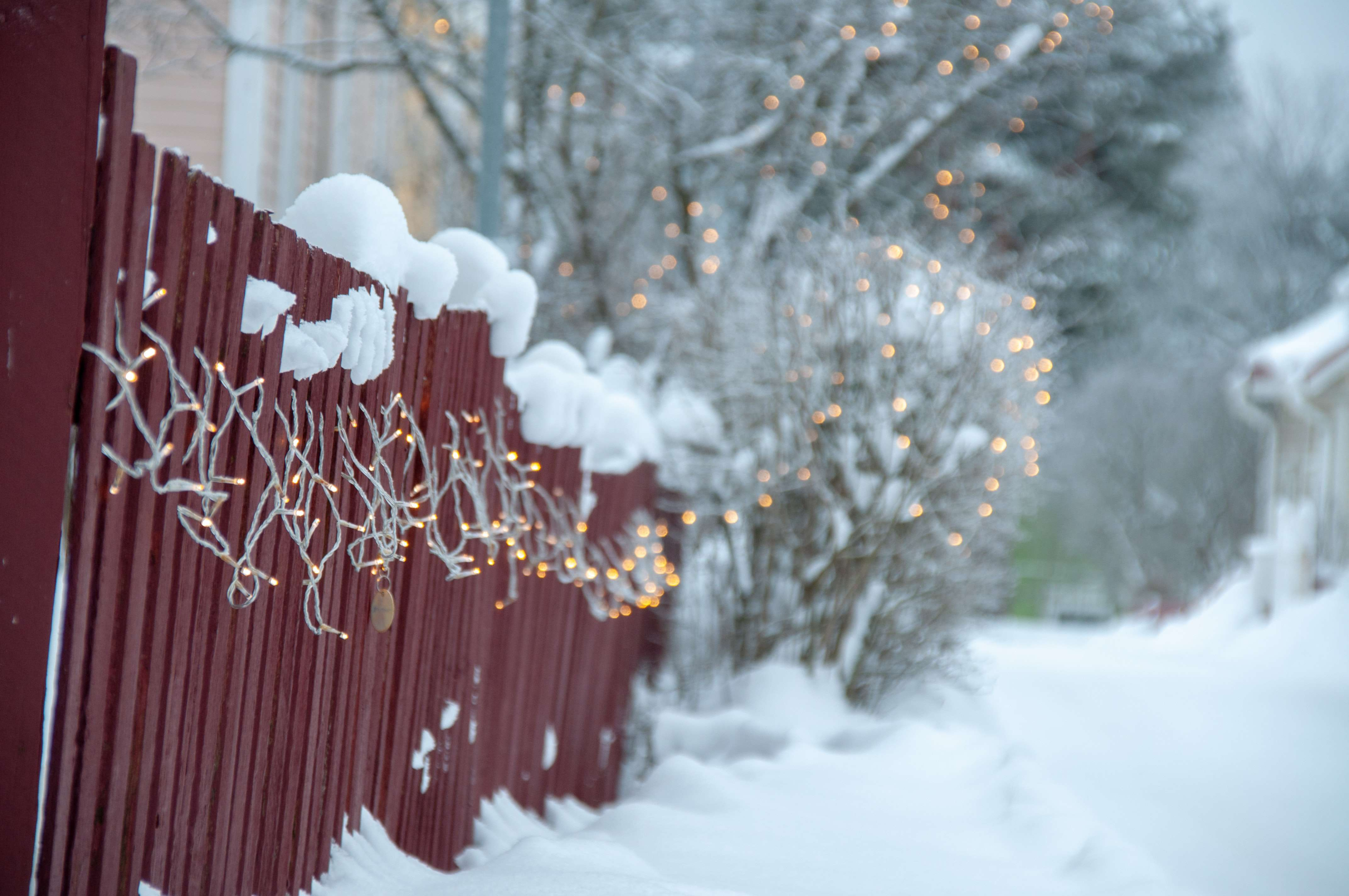 Can Outdoor Lighting Keep My House Safe and Secured?
The main function of lighting is actually not for beauty but for safety. A well-designed space with patio lighting ideas will keep your poverty far from unwanted visitors, if not burglars, merging into your home.
What's more, illuminating front doors, pathways, or driveways will add overall light to the space and prevent potential hazards, also help you in finding your dropping keys at nightfall.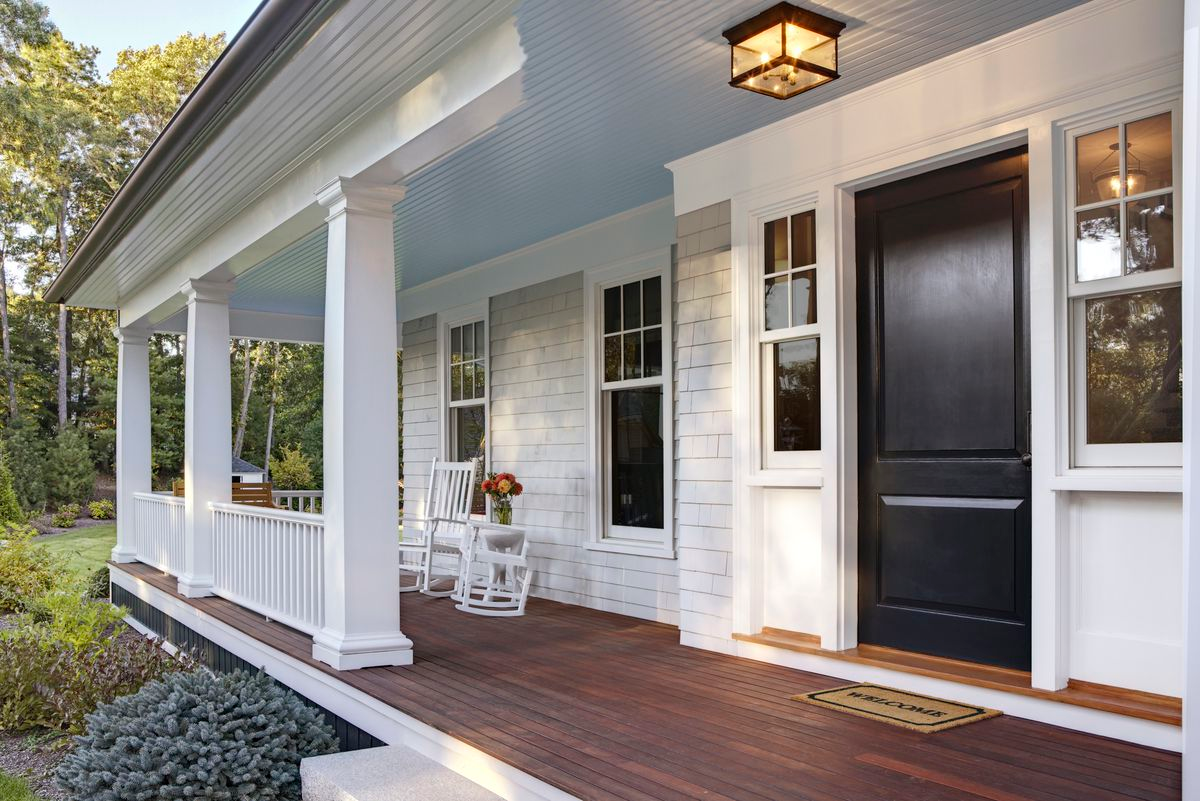 To contact Renton landscapers to help you with landscape services, here is the information about Green Arbor Landscaping:
Phone: (206) 279-1450
Email: info@greenarborlandscaping.com
Website: https://greenarborlandscaping.com/