Raised garden beds are a popular solution chosen by gardeners when they cannot afford to grow vegetables or flowers in the ground as traditionally. The raised bed allows you to make use of almost any place like your grass or patio to plant a garden. It is also convenient for beginner gardeners as the raised garden bed helps control the size of their garden and construction costs.
Raised beds offer several advantages in terms of drainage and soil pressure. However, gardens can vary, so choosing the right raised bed for the garden depends on the space, design, and type of plants. In addition, raised bed gardens come in various sizes, materials, and designs so there is no standard in choosing raised beds. Gardeners need to be careful in using raised beds to have a creative garden and fit into the available space.
Check out our article on raised garden beds below to find the right raised bed for your garden landscaping Renton.
Contact via phone number (206) 265-2940 for more information about raised garden beds.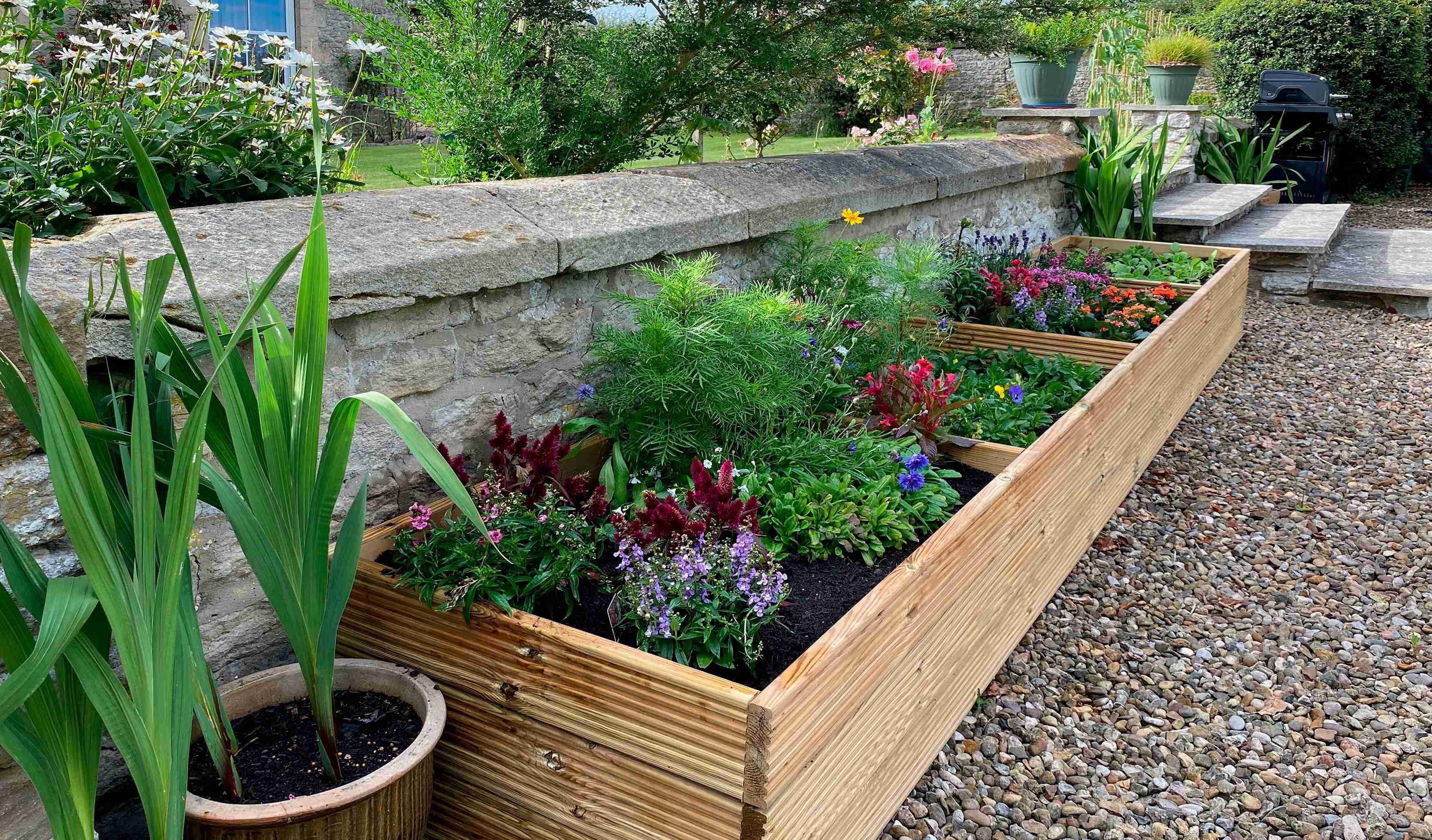 I. Types of Raise Garden Beds – Landscaping Bothell
Before choosing a raised garden bed, you need to consider what type of raised bed is right for your plants and outdoor space. There are 3 common types of raised beds that lift plant roots above the ground: raised ground beds supported raised beds, and containerized raised beds.
Raised ground beds are the simplest aboveground gardening option. They are built-in raised beds or mounds that are 6 to 8 inches high and do not have a support frame. These raised beds are a useful option for gardeners who have a large area growing plants but don't want the added expense of building support frames as they only require extra soil and no other materials.
Supported raised beds with edges or support frames surrounding soil are suitable for sloping and uneven ground. This supported raised bed is usually made from materials such as wood, stone, or metal.
Containerized raised beds are a type of raised bed that is highly flexible and easy to use. It's basically a planter or large pot with a container that has a taller side and base, so you can use them anywhere like your lawn, walkway, deck, or patio. However, this containerized raised bed needs more soil to fill them and places that can withstand the moisture it gives off.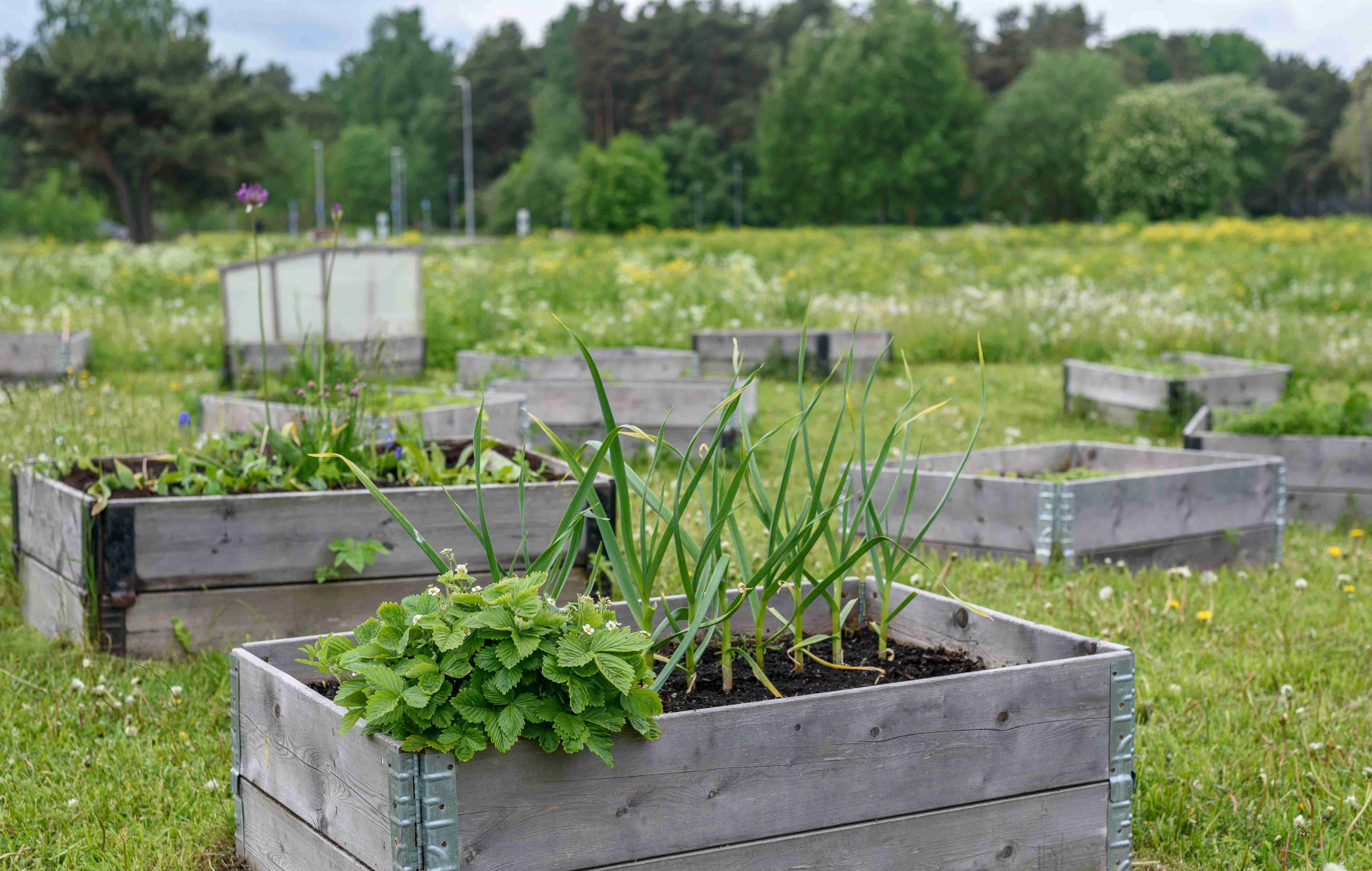 In addition, there is another type of raised garden bed similar to a containerized raised bed but not as popular as an elevated raised bed. This raised bed is suitable for gardeners with mobility difficulties because of its comfortable standing height.
>>> Read more: Stamped Concrete Patio
II. How to Choose the Best Raised Garden Beds
There are many different types of raised garden beds on the market, so deciding which is right for your garden is important. This will help you have the desired garden effectively without spending too much time and money.
Based on comparing key criteria such as material, size, or design of the raised bed and considering the garden space to choose more easily.
1. Materials for Raise Garden Beds – Landscaping Bothell WA
Garden-raised beds are made from a variety of materials such as wood, brick, stone, or metal, even many gardeners can take advantage of available materials to create their own raised garden beds. The choice depends on the preferences of each person, but the material must ensure longevity and safety when used around plants and soil.
Wood is a traditional material used because of its versatility, you can easily cut them to the desired size, and do not require too many construction skills. Wooden raised beds will create a natural garden setting but their quality will be affected by climate and time so we should choose rot-resistant wood like cedar or fir for longer durability.
Currently, masonry and metal are also one of the most popular materials used to make raised beds because they are more durable and have a longer life than wood.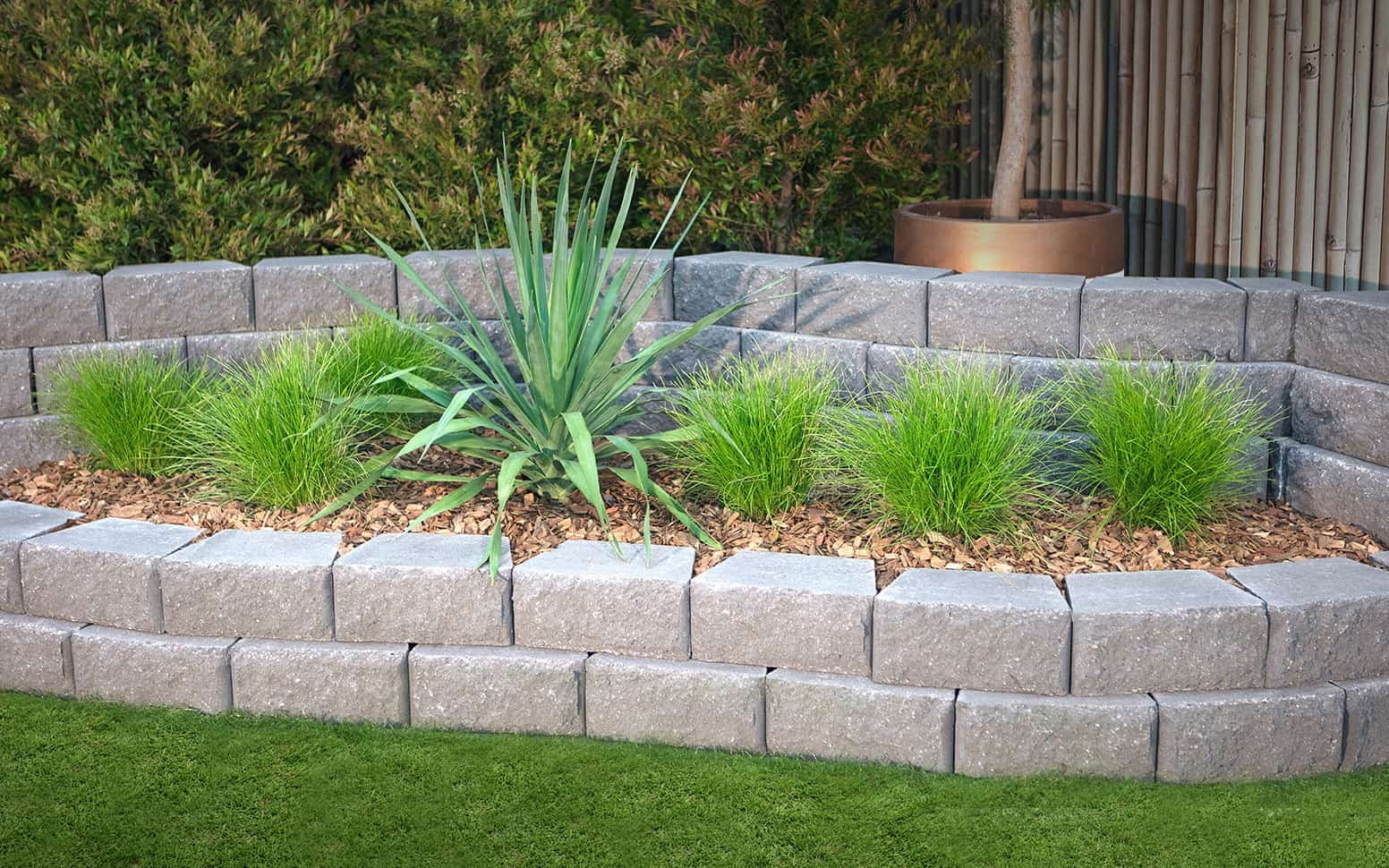 Before using masonry such as natural stone and bricks to make raised bed gardens you need to have a clear design as it will stay in place forever. The galvanized metal raised bed can prevent rust and is a super durable material that will bring a modern style to the garden. Both of these materials will help prolong the growing season and provide better heat dissipation for the garden.
However, there are some materials you should not use to create a raised garden such as pressure-treated wood, MB pallets, tires, or Cinder blocks made from fly ash. These materials may contain chemicals and heavy metals, which when used as a raised bed for a long time will adversely affect plant and soil quality.
2. Design of Raised Garden
The design of a raised garden that is suitable for the space and size of the yard is one of the factors that help you choose the material as well as the type of raised bed. There are many style designs of raised beds you can choose according to your taste to create a unique look for your garden.
Spiral gardens are popularly used to grow herbs and are built simply by stacking stones, bricks, or wood on top of each other to form a spiral. You can use a pet feeder and drill some drainage holes to form a trough garden, this is a simple design that does not require assembly and is made of metal so it has good heat conductivity for soil.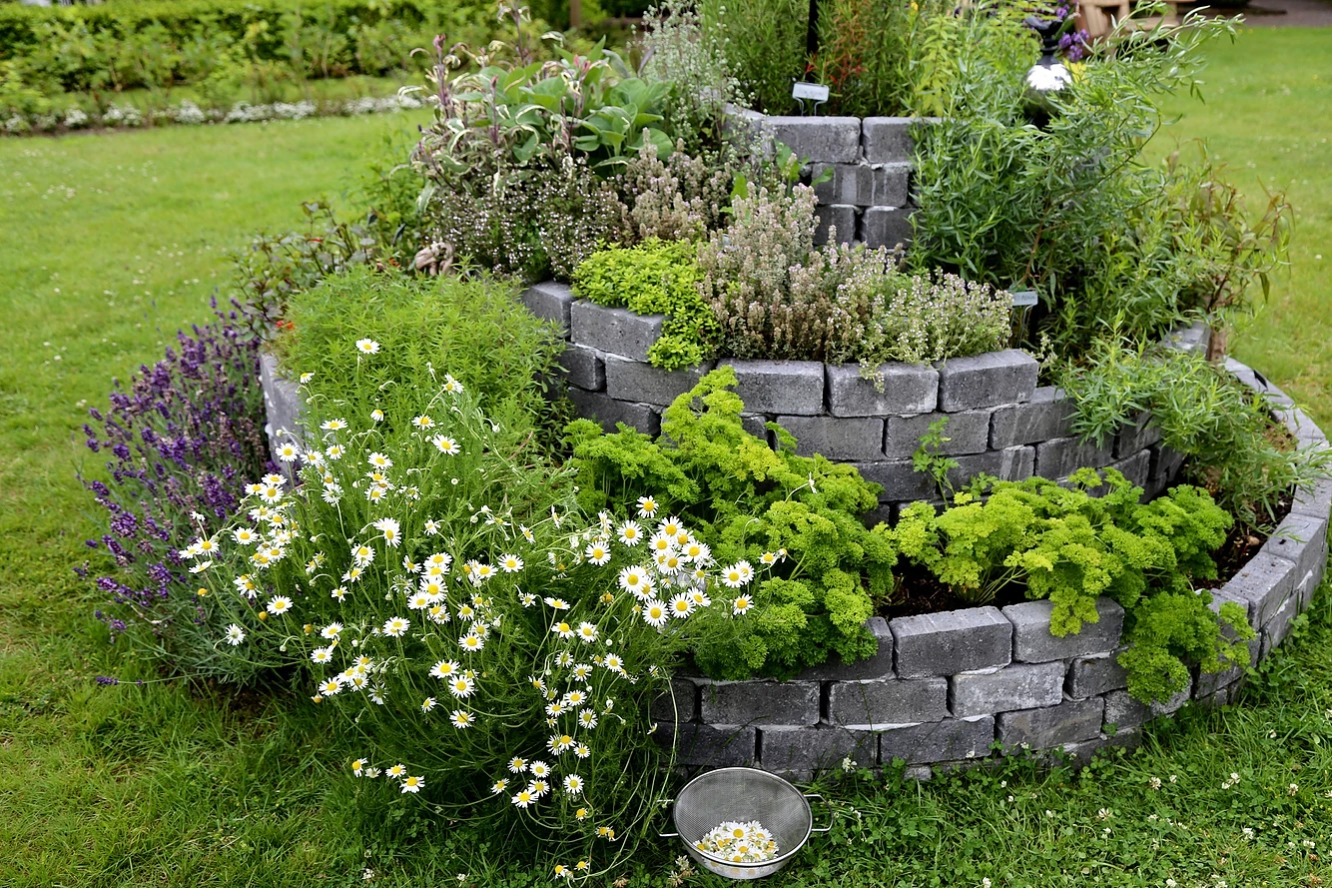 If you have a sturdy fence, make a few small tall wooden beds attached to them and plant some of your favorite flowers.
>>> Explore similar garden bed services here!
3. Drainage Holes – West Seattle Landscapers
Moisture and soil quality are important factors for planting growth. Raised garden beds have good drainage and ensure that water does not stagnate, which will help prevent the roots from rotting and prevent the growth of harmful insects. Many raised beds are designed to drain naturally through the gaps between the slats when assembled, and others require drilling a few drainage holes.
If you are placing the raised bed on surfaces such as stone, wood, or concrete patios, using a liner will help protect the surface from damage.
4. Size and Special Features
The size of the raised bed depends on the space and the size of the yard available, gardeners need ideas and measurements before deciding on the material, length, and width of the raised bed. Beds with a raised surface above the ground will make it easier for people with limited mobility to garden and avoid bending too much while caring for plants.
To save time, gardeners often choose for easy-to-install with no assembly required raised beds or come with kits ready to install them. Some raised beds are equipped with a number of features such as the ability to stack on top of each other or have castors for easy movement when your booster bed is filled with soil. In addition, they also have an additional roof or rack for gardening tools below the planting frame.
>>> Explore more: Garden Boulders – Feature Landscape Design for Garden
III. The Best Raise Garden Beds – Landscaping Services Bothell WA
1. Green Arbor Landscaping – West Seattle Landscaping
Green Arbor Landscaping is a company that not only provides garden beds but also other landscaping services such as flower beds, plant beds, or any other landscaping works. With more than 30 years of experience and a team of experienced and skilled professionals, we will work with you to design ideas and choose raised garden beds with appropriate materials and sizes to create a wonderful garden space.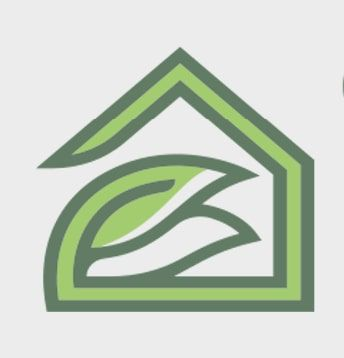 For more information about our raised garden beds services, feel free to talk to us by calling (206) 265-2940. You could also fill out our online contact form to request a free quote.
2. Best Choice Products – Raise Garden Beds
Best Choice Products is a raised bed made from fir that is rot-resistant and weather-resistant. It is available in a full length of 48 inches, 23 inches wide, 32 inches high, and about 9 inches deep, and comes with a liner that separates the wood from the soil. In addition, this raised bed is also equipped with wheels and a safety lock so you can easily move them.
This is a quality garden raised bed and has natural drainage based on the space between the wood slats, suitable for those who prefer a natural garden. However, the assembly required and replacement of a new liner every growing season or a few months.
3. Greenes Fence Cedar Raised Garden Bed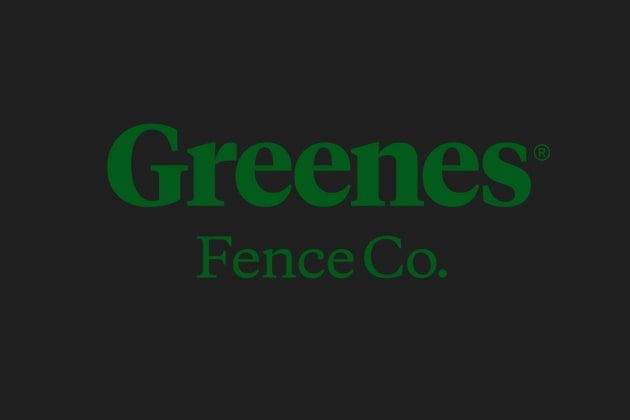 Greenes Fence Cedar is made from natural cedar with fragrance and insect resistance. This raised bed is perfect for growing plants that require a lot of water such as vegetables, fruits, or flowers because they drain excess water freely at the bottom.
Greenes Fence raised beds can be assembled and stacked without tools. However, the pillars to create the frame have slightly large screws, so it is easy for the wood to split.
>>> Maybe you're interested in 10 Unique Front Yard Fence Ideas
4. Jumbl Raised Canadian Cedar Garden Bed
It is a raised garden bed made from cedar and about 30 inches high that comes with all the parts and hardware so you can install it. Cedar is a popular wood for garden-raised beds because it is less susceptible to weathering and is resistant to wood rot. also it comes with a liner and you have to replace it after every season.
The Jumbl raised bed is 18 inches wide and 34 inches long, with an inner bed depth of about 9 inches, which is perfect for root growth of herbs, flowers, and leafy vegetables.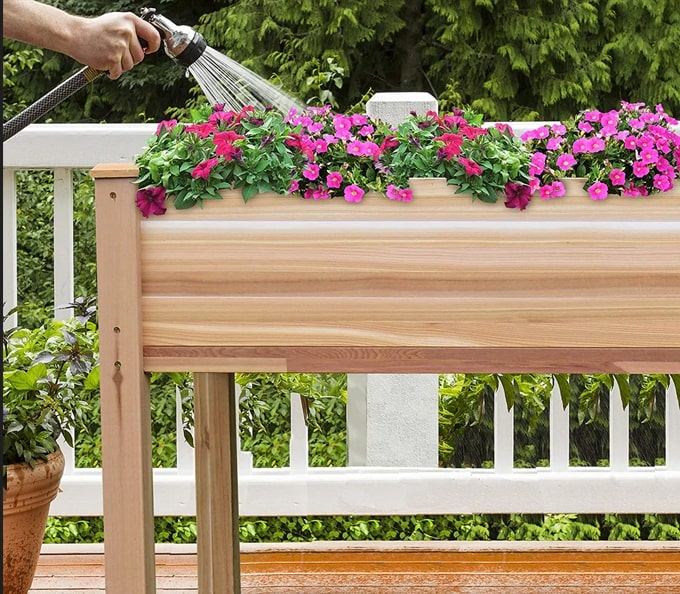 5. Keter Urban Bloomer 12.7 Gallon Raised Garden Bed
The planter box of this raised garden bed is made from high-density polyethylene material and divided into small sections to help you grow different types of plants. It is equipped with an integrated watering system with a water reservoir to help you retain soil moisture, along with a water meter and a drain plug located at the bottom of the bed to remove excess water when needed.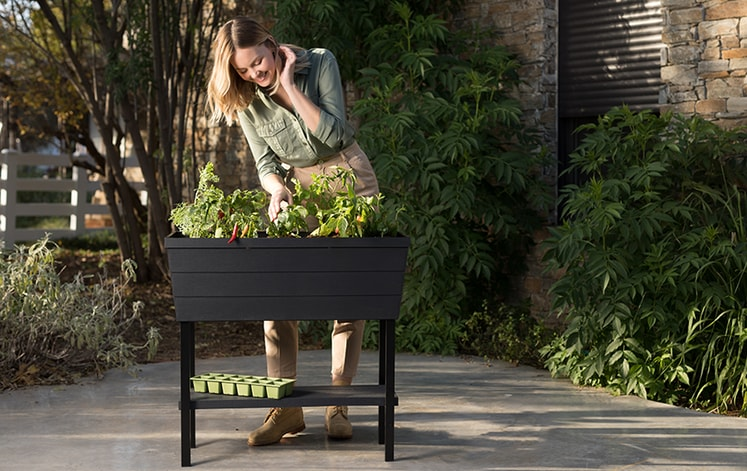 The Keter Urban raised bed is 30 inches high and the inside of the bed is about 12 inches deep, has a storage shelf underneath to help you store gardening materials, and comes with a seed tray. However, it is very difficult if you want to move this raised bed to another location because they must not have wheels.
6. Outland Living Raised Garden Bed – Vertical
The Outland Living Raised Garden Bed is a sturdy raised bed with a steel frame and high-density polyethylene container suitable for growing flowers and herbs.
This raised bed is all composed of steel legs and frame members with stainless steel nuts, washers, and bolts and you need to assemble them together according to the instructions. However, they do not have drainage holes so you need to drill in the bottom to make space for the water to drain.
>>> Explore more: Tree Cutting Service – Top 10 Best Services Near Renton WA
7. Kdgarden Raised Garden Bed Kit
The Kdgarden Raised Garden Bed measures 48 inches by 48 inches and is 13.3 inches high and is made from a PVC material that is resistant, does not rot, and is insect resistant. It drains naturally from under the bottom side rails and the water will drain out when you place it on a flat part of the ground. This raised bed is quite striking white, has a net included, and is also easy to assemble which is perfect for growing small plants and vegetables.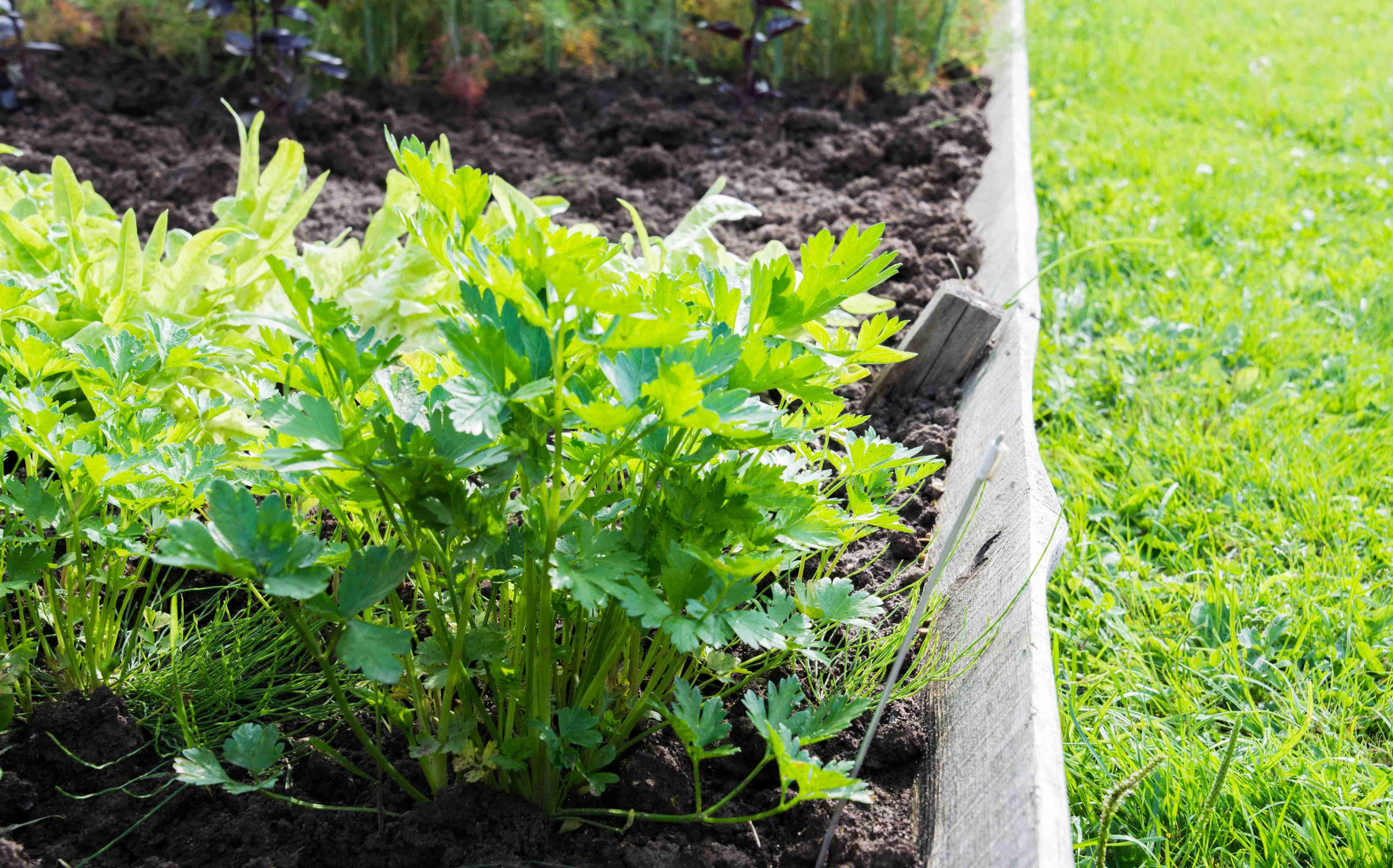 8. Vegepod Raised Garden Bed
Vegepod garden bed is made of sturdy polyethylene and measures 20 inches long, 13 inches wide, 40 inches high, and has a misting nozzle installed along the inside of the lid. It includes a protective mulch that prolongs the growing season, making it suitable for end-of-year crops. However, it only has a few small holes in the bottom, which makes drainage very poor, when it rains, it will make the soil soggy and take a long time to drain.
In addition, this garden-raised bed has quite a few parts that need careful and detailed assembly, so it will take a long time to install.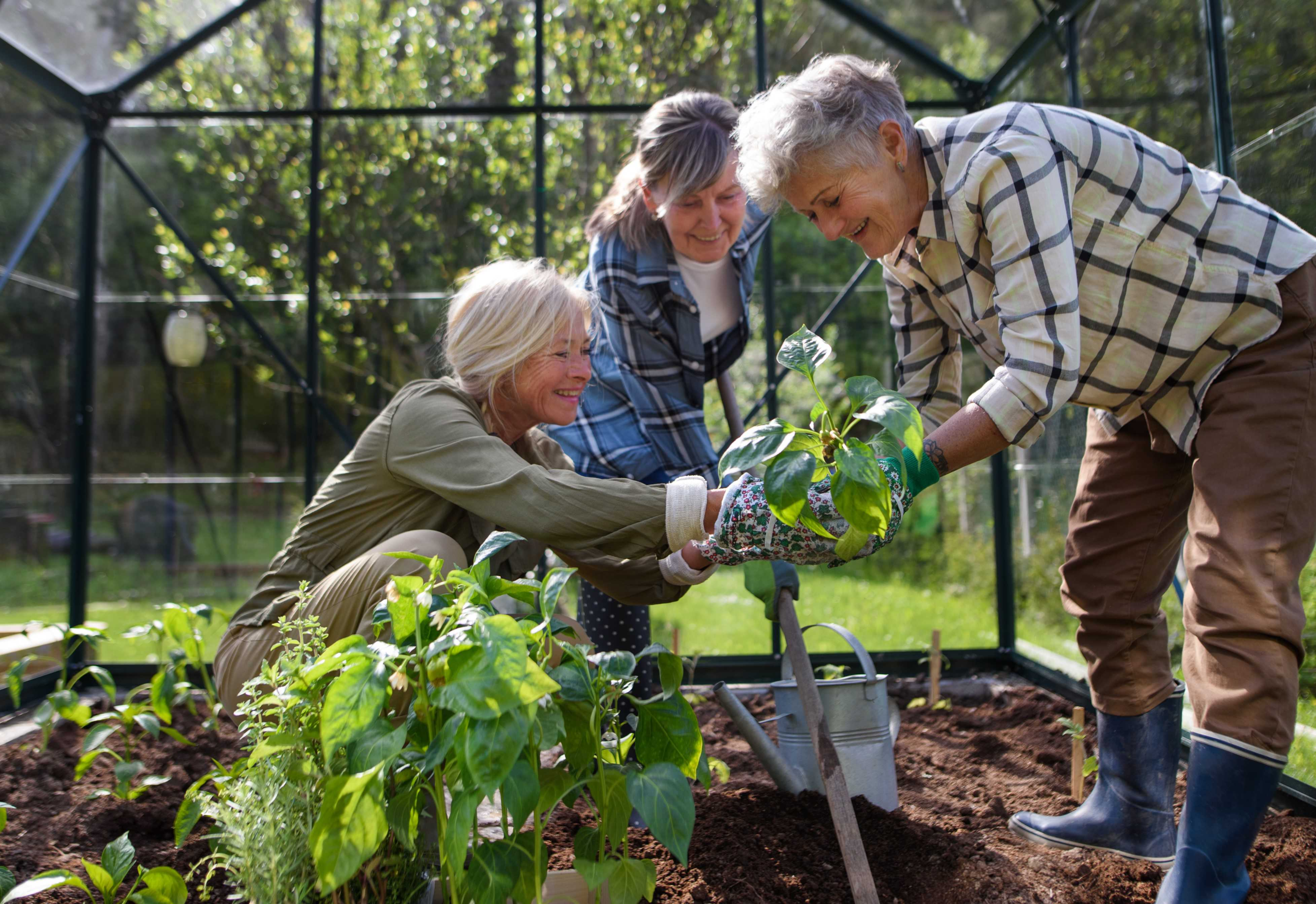 9. Sunnydaze Raised Garden Bed Kit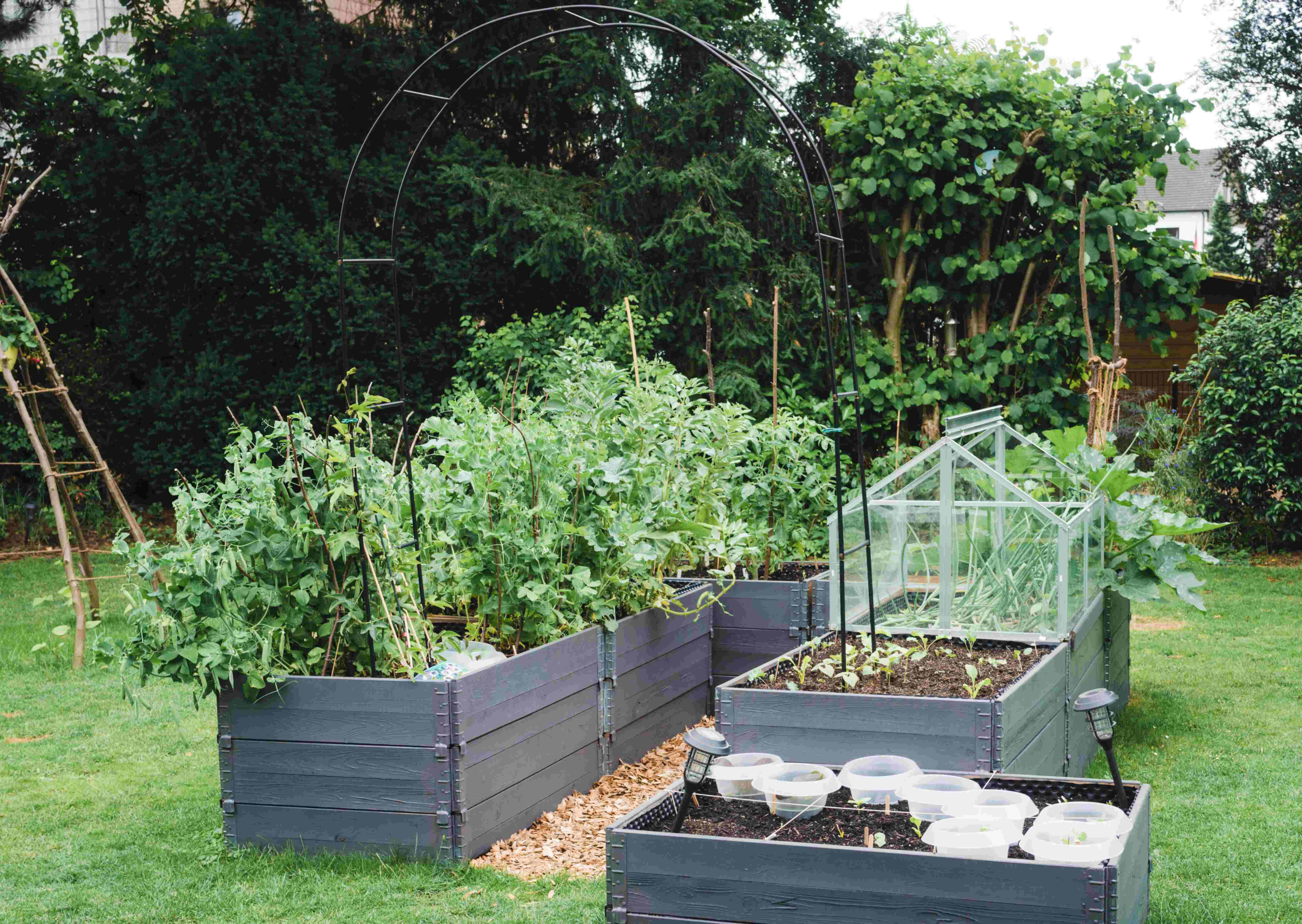 Sunnydaze Raised Garden Bed is made of galvanized steel material that is resistant to corrosion, so it has good durability. The raised bed has many details including a hexagonal metal bed, screws, six bolts, nuts, and washers so assembly takes a long time. Once assembled it measures 40 inches across and 16 inches deep so it holds a good amount of potting soil, perfect for growing vines like watermelons or pumpkins.
However, a large amount of water escapes from the plates where the metal parts are attached to the supports this adversely affects the soil moisture.
10. Clean Earth Earth Works Vinyl Raised Garden Bed
Clean Earth Raised Garden Bed is made from whitewashed vinyl, which is a great alternative to wood because it is very durable, abrasive, and moisture resistant. Assembling them takes just a few minutes to slide the bars together with no tools and they're so light you can take them anywhere. Good drainage and ground clearance is based on the open bottom in the bed, suitable for growing herbs and vegetables.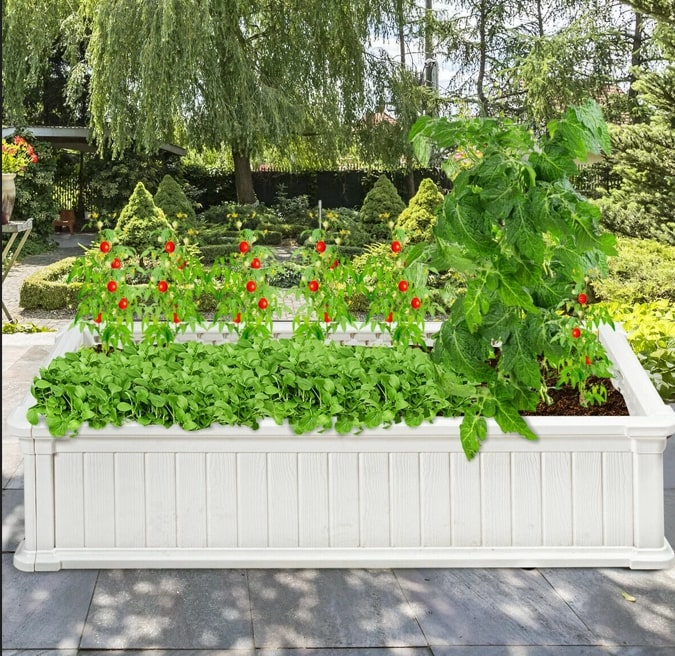 >>> Read more: 10 Best Landscaping Near Me
IV. Benefits and Disadvantages of Using Raised Garden Beds
Benefits of Raised Bed Gardening – Renton Landscaping
Raised garden beds are a perfect choice for those who are just starting out in the garden, they can make a few beds and grow their favorite plants. Those who do not have a large area and want to take advantage of spaces such as concrete yards and corridors to create their own garden can use raised garden beds.
Using raised garden beds also helps gardeners control soil quality such as moisture and nutrients in the soil for growing plants. When you add soil to your raised garden you'll know for sure it won't be contaminated and control the amount of soil you use for each plant.
Not everyone likes the traditional way of gardening because digging the soil is difficult, especially when encountering tree roots or large bushes, a raised garden bed will help you limit those things. Using raised garden beds with unique designs, creative ways, and different materials will create a beautiful garden with many colors. The selection of the size of the raised bed is suitable for everyone, even those with limited mobility can also own, plant, and take care of the garden.
Disadvantages – Landscaping Renton
To maintain the raised garden for a long time, you must spend a lot of money on maintenance and care. Wooden raised beds are affected by the weather and in the long run, they will rot, so it is imperative that you replace another raised bed when they are no longer in use. That means you have to start over from scratch, repair, or buy more land to fill them and the cost will depend on the size of the garden bed.
You must continuously add soil or other materials such as straw, logs, and shredded leaves to fill the raised bed and create organic gardening. Regularly check soil moisture to avoid unnecessary extra water and add nutrients to ensure growing foods and plants.
Each garden-raised bed has a different drainage system, so it is imperative that you install an irrigation system suitable for each type to effectively drain water to avoid stagnation of water and prevent fungal and bacterial growth.
To contact West Seattle landscapers to help you with garden beds service, here is the information of Green Arbor Landscaping with over 30+ years of experience in the landscaping industry: